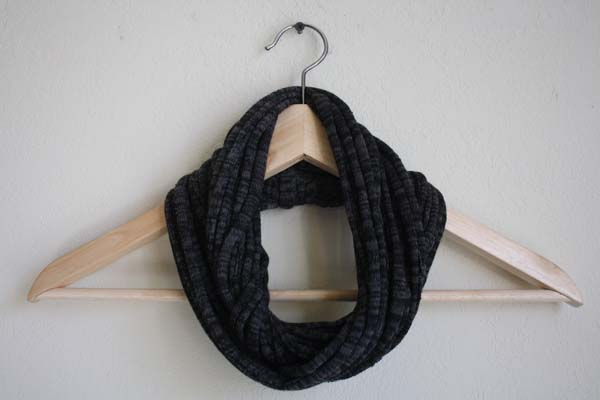 by Christie Sommers of West Oak Design
This is a nice little project to use up scrap jersey knit fabric or an old t-shirt.
You will need:
*scissors OR (a rotary cutter, straight edge, & cutting mat)
*A "tube" of jersey knit fabric. For a no sew version you can cut the tube from a t-shirt. To use a scrap of jersey knit fabric, cut a rectangular strip roughly 16″ x 42″ and sew the two short ends together to form a tube (folded and sewn it will measure 16″ x 21″)

Take your tube and cut into 1″ strips taking special care to leave 1″ uncut at the top.


When you get to the last strip, cut all the way through. This strip will become the wrap to hide the seam or uncut section at the neck.


Gather the scarf and hold at the seam/uncut section.

Tie the last strip to the seam/uncut section and wrap around until it is covered.

When you have wrapped all the way to the end of the seam/uncut section, lift the last loop and tie the end of the wrapping strip to it. Snip the remaining strip leaving about an inch.  Tuck the leftover inch under the wrapped section.



Now the fun part….
Hold the wrapped section and pull each individual strip as far as you can.  You may need to sit on the floor and place the wrapped section under your foot as you pull and stretch each strip which forces the jersey knit fabric to close in on itself, hiding seams and leaving neat strands.

You're done! Wear it long or loop it around for a nice looking cowl.
______________________________________________________________
Christie Sommers is the designer and maker behind West Oak Design. She handcrafts small batch and one of a kind goods for home, women, and kids in her Wyndmoor, Pa studio. www.westoakdesign.com