We've got some exciting news!! We are bringing our Art Star Craft Bazaar to Asbury Park, New Jersey!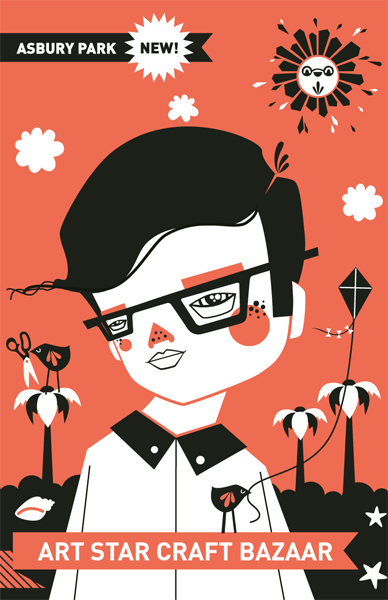 Don't worry, we will still host our bazaar twice a year in Philly.  We've been looking for a 2nd home for our show for quite a while now, so this will just be another location added to our roster.
Asbury Park is a perfect fit for our show.  There is already a flourishing creative scene happening there and also tons of independent shops and restaurants.  It is just our style.
We will be bringing our bazaar to Bradley Park, which is a city owned park situated right across the street from the Asbury Park Boardwalk and their Convention Hall.  The show will be held during the city's peak summer season, on the weekend July 25th + 26th.  The city has a devoted art/craft community, which is active year round.  We hope to attract this audience, tourists, as well as our own Art Star following.
We are excited to be partnering with Asbury Park based non-profit, Move For Hunger. We will be collecting a $3 suggested donation at the door and 100% of that will go directly to this amazing organization.
Move For Hunger is a 501(c)3 nonprofit founded in 2009 to transform moving into an opportunity to reduce food waste and help feed the hungry. Move For Hunger is a national organization working with over 600 relocation partners and thousands of real estate agents to bring awareness to hunger in America. Currently over 1,151,000 residents of New Jersey struggle with hunger. Move For Hunger is working to ensure less food goes to waste and more is delivered to those in need. In just five years, the Move For Hunger program has delivered over 4.5 million pounds of food to community food banks nationwide.
The Asbury Park Art Star Craft Bazaar will be very similar to our popular spring bazaar at Penn's Landing Great Plaza in Philadelphia.  Around 100 art/craft vendors will be set up selling their wares in Bradley Park.  On that note, we are now accepting vendor applications for this show!  So if you are an artist or crafter who would like to apply to participate, please go here
We are also looking to bring in some locally based art organizations/non-profits to set up at our show in exchange for providing a free interactive art/craft project, or as we call them "make + takes", for guests to come and make something that they can take home with them that day.
We are so excited to bring our bazaar to this amazing city and we hope you are to!  Please continue to check the site for updates on the show.  If you are a business based in Asbury and want to work together – cross promote or provide a make + take, please get in touch with us.  We are looking to collaborate and involve the city as much as possible!