Photos + Tutorial by Bonnie Kaye Whitfield
You are not going to believe how quick and easy this tote bag is to make. I first discovered this tote bag design after getting one with a purchase from a major retailer. It is simply constructed of two pieces of fabric. Brilliant.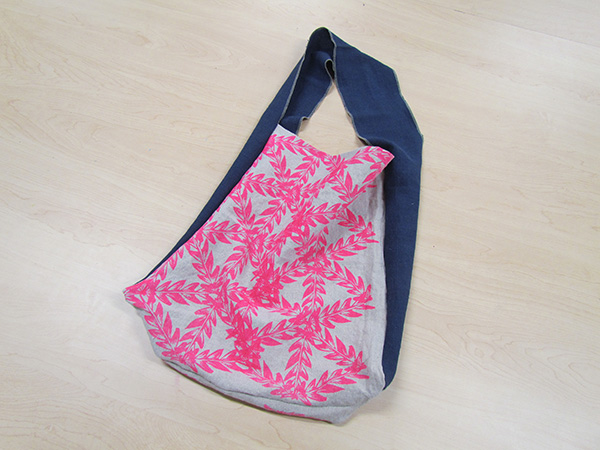 You will need:
|
❖ 2 rectangular pieces of fabric
❖ scissors or rotary cutter to customize fabric sizes
❖ pins
❖ serger and/or sewing machine
❖ iron (optional)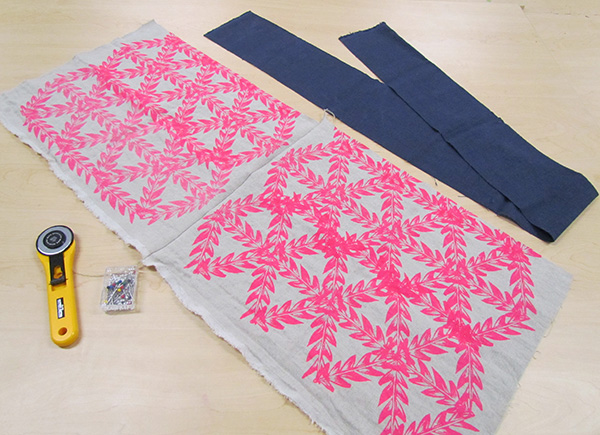 Your two pieces of fabric will determine your overall shape and size of the tote. One piece will serve as the body of the tote and should be wider and shorter. The second piece of fabric will serve as the sides and the strap of the tote and should be thinner (depends on the depth you wish your tote to have) and much longer. For the body of my tote, I'm using some scrap fabric from my studio and you can see that I sewed them together in order to have a large enough piece – so feel free to hinge pieces of fabric together if needed.
Take the two short ends of your fabric piece that will serve as the body of the tote. Iron and pin a 1⁄2" hem and sew. This will create a more finished look for the top edges of your tote.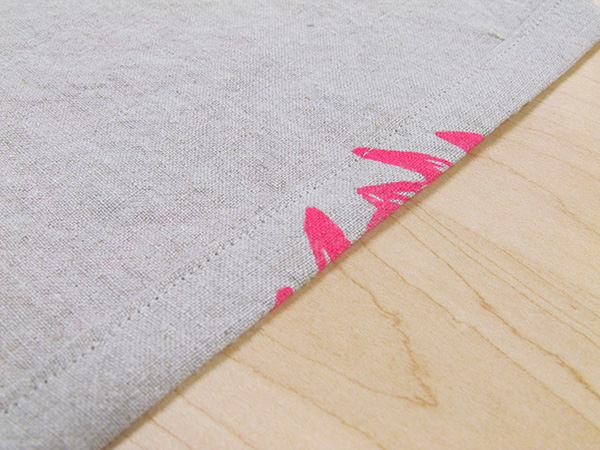 Grab a bunch of pins and your two pieces of fabric and take a seat. Fold the body of the tote, so that the nice sides are facing each other on the inside. You'll be pinning your tote together from the inside.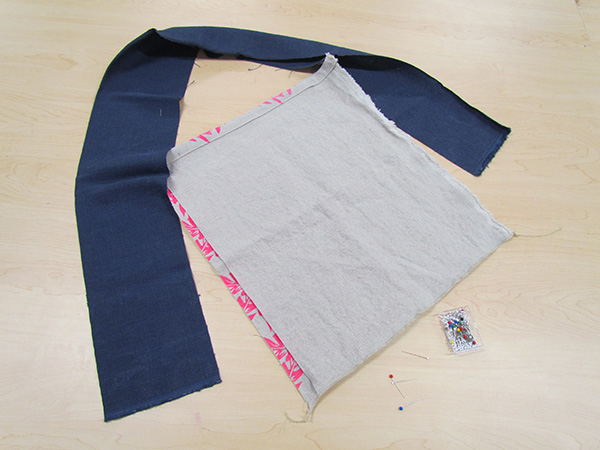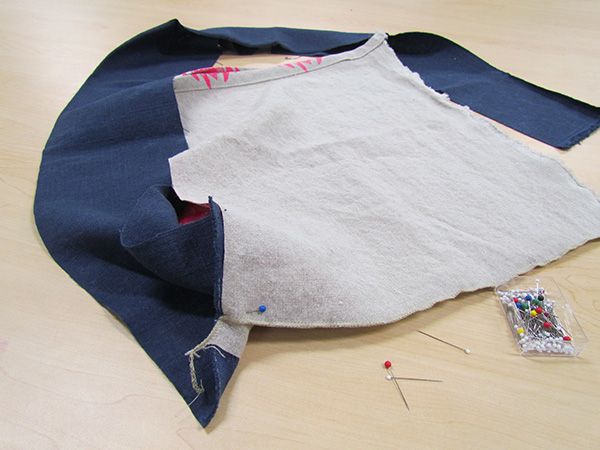 Start by pinning the long piece of fabric to the bottom of the body piece, matching the center/bottoms. Keep pinning as you go around the corner edge of the long piece of fabric. Stop when you get to the top edge of the tote. Repeat on the other side of the tote, starting at the bottom/center of the bag again.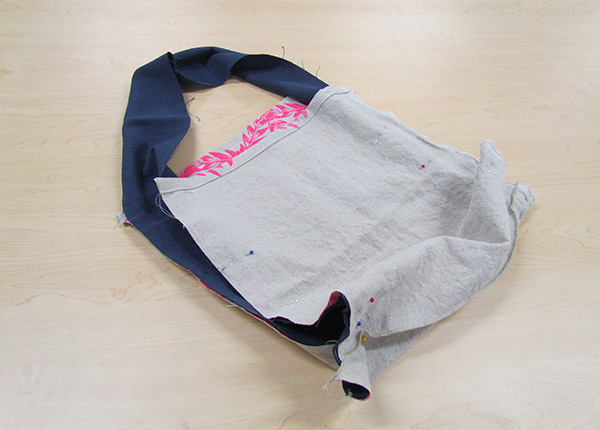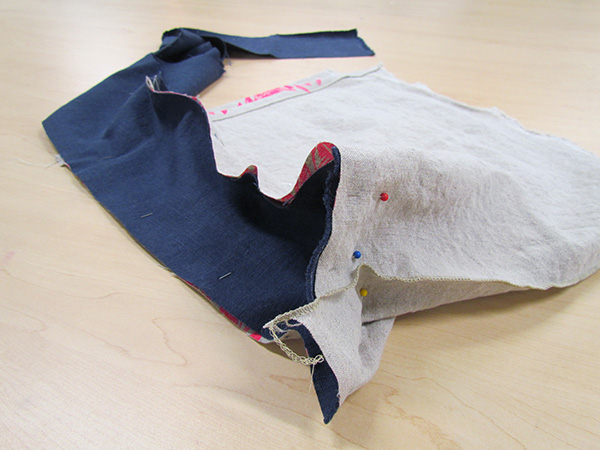 Once the two pieces have been completely pinned together, you are ready to sew. You should also be able to get a pretty good idea of the overall size and shape of your tote at this point.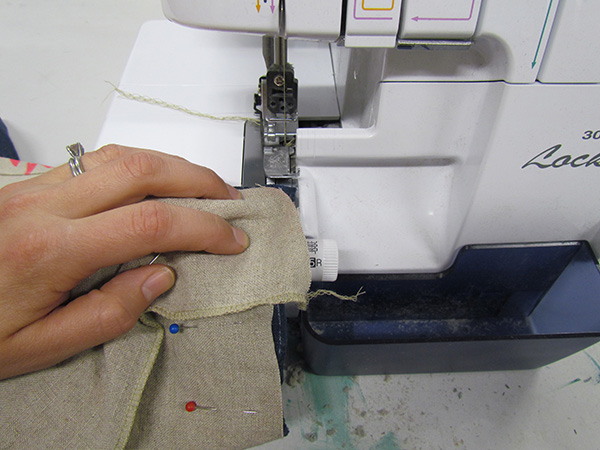 I'm using a serger, but you can also simply use a sewing machine. First, begin by sewing the two bottom edges of the two sides. The length of the stitch will depend on the width of your strap.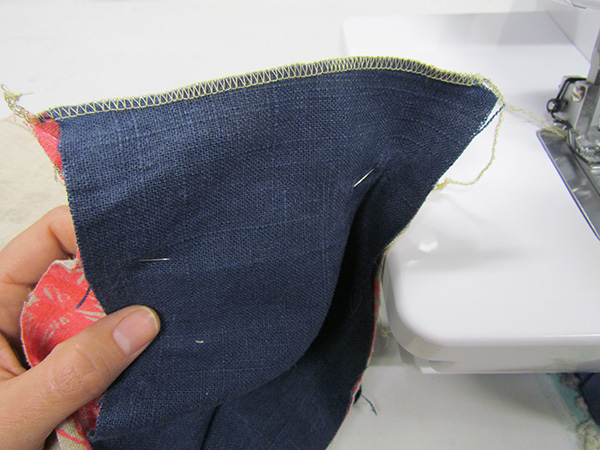 Next, you'll do two long stitches and that's it! Begin at one end of the tote and sew over the strap, until you get to the other side of the bag. Repeat on the other side.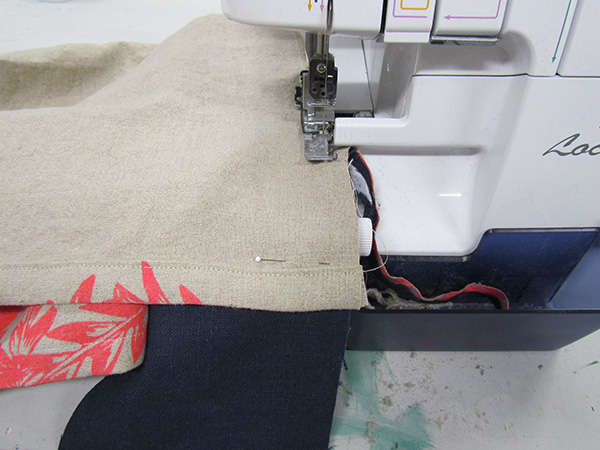 Turn the bag inside out and you'll now have a splendid new tote, perfect for all your toting needs.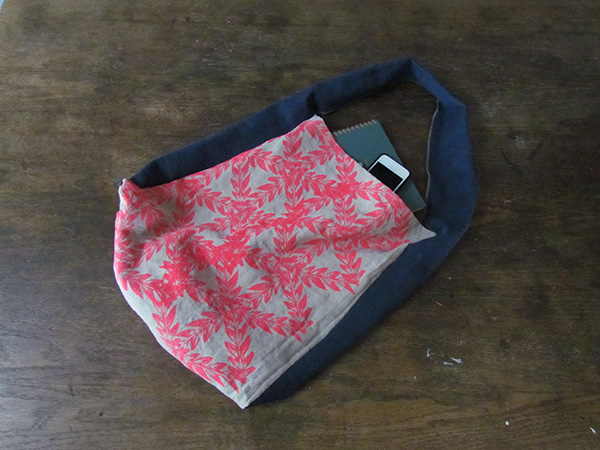 ———————————————————————————————————-
Bonnie Kaye Whitfield designs and screen prints home textiles + paper goods under the name, Bonnie Kaye Studio. Products are created to inspire memories at home and around the table.  A donation is made with every purchase to help feed hungry Americans. www.BonnieKayeStudio.com