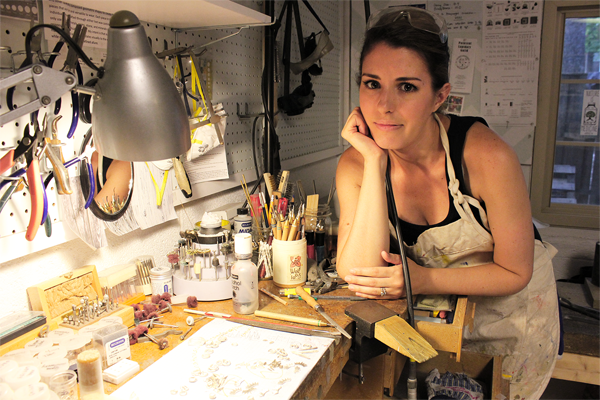 2016 has been a big year for me. In January I resigned from my high school art teaching position of almost 8 years to pursue my passion of designing and making jewelry, full-time. It was a leap into the unknown. Although running a business is grueling at times, I love every minute of it and have no regrets. I am living my dream.
I've always loved creating. I have fond memories of playing in the woods as a young girl growing up in rural Pennsylvania. Whether it was rearranging rocks in the stream by my house to build a man-made swimming hole (if you found a crayfish that was a major score), or leaning large branches against a tree to form a make shift teepee fort, I've always had the urge to make things. This urge carried over into loving art class all throughout school and being inspired by talented artists in all mediums. I was introduced to the concept of metalworking in high school and pursued this interest further in college by earning a B.F.A in Fine Metals in addition to my art education degree.

In 2014 (after about 6 years of having no feasible space to work as a metalsmith) I obtained my studio. I taught all week and worked in my studio during the off hours. Eventually, Amanda Hagerman Jewelry was established. It took several months of creative exploring to find my voice as an artist. I knew I wanted to create fashion forward designs that had a rustic, almost ancient appeal and I kept coming back to the notion of wanting my work to somehow reflect nature. Over time, I developed a lost wax casting technique combining geometric shapes with a rocky, ridge like surface. The result of this reflected the mountainous scenery I grew up around as a child. It embodied the parts of the landscape that make me feel whole and center me spiritually. It also achieved the rugged ancient look I desired with a fun and edgy twist. Each day I work to hone this technique and what has now become my signature style. It continues to grow and evolve and I'm excited to see where it will lead…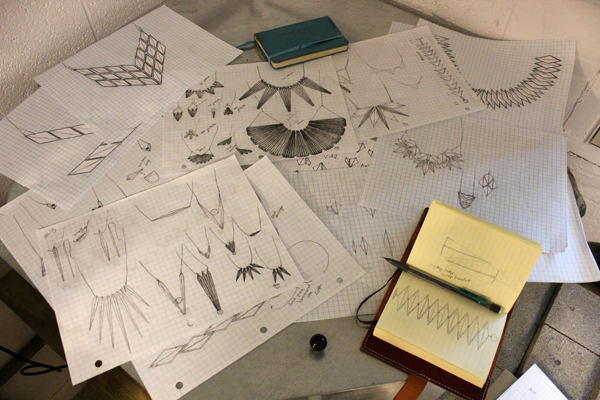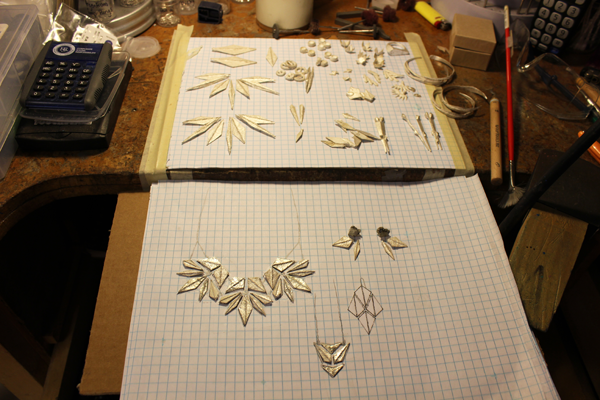 Each piece begins as a drawing on paper. I start with geometric shapes based on the elements in the landscape, specifically rocks, ridges, and ravines that influence the aesthetic of my work. After rendering the shapes, I make several paper copies of those shapes. From there I cut them out and rearrange them into various compositions. This is how I develop all of my designs. This process alone often takes hours, but is very satisfying and exciting. Once I have developed a series of sound designs, I set off to work in my studio.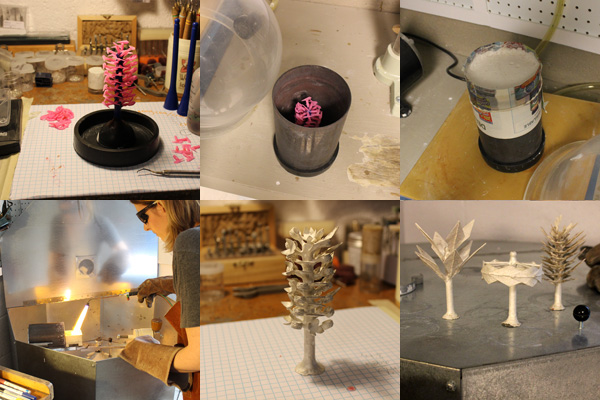 To create my work, I often combine lost wax casting and fabrication processes. Items with my signature textured ridge surface are first hand sculpted using a combination of modeling and sheet waxes. The wax is malleable and allows me to manipulate the surface in order to achieve the desired surface textures. These pieces are then cast centrifugally using the lost wax casting process. This is an ancient technique that dates back to over 5700 years ago, which today involves investing pieces into a plaster cylinder, melting all of the wax out in a kiln, and pouring molten metal into the void where wax once was. Casting is an art in itself, one that brings me great satisfaction and control over what I create. Once shapes are perfected (after casting and finishing) I make molds of those pieces, unless they are for a one-of-a-kind design. Mold making saves me time in reproducing the wax pieces for my production line. In the images above, you see several pink wax pieces that have been made from molds of an original copy. Other details of my work are hand fabricated directly in metal by cutting sheet, forging wire, soldering prongs & jump rings, etc.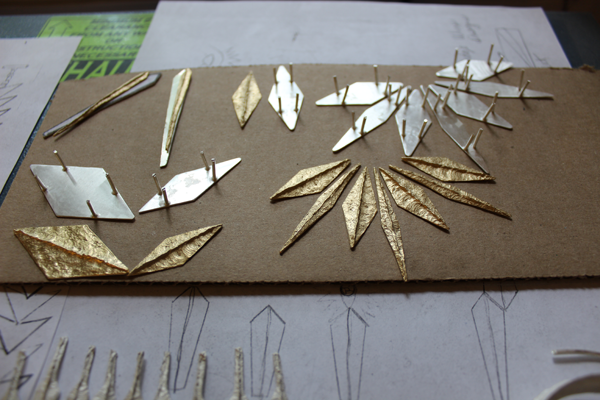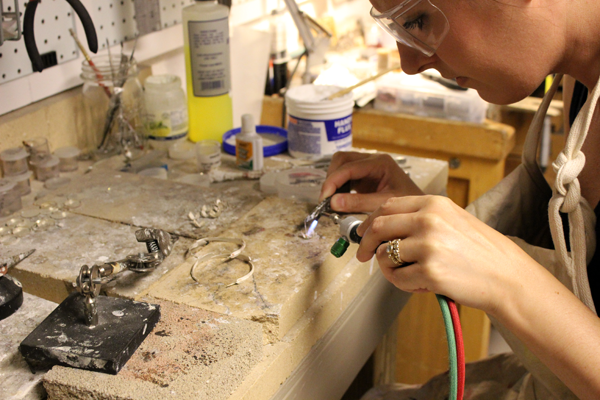 My process is truly my identity as an artist. I stand for the slow made item. The piece that was worked by hand from start to finish. I am about celebrating the Maker's mark and the beauty of artistic exploration all the while finding balance in imperfection and skilled craftsmanship. I've been told that each of my pieces have soul. I believe it's the care and attention to detail given individually to each piece that plays a role in establishing that. Because each piece is individually handcrafted, no two pieces will ever be precisely the same. In today's world we often see things mass produced by machine. Millions of cookie cutter items that make us lose connection with the concept of artisan made and skilled craftsmanship. My work may not be precision perfect like items made by a machine, but I think there is great beauty in the imperfections. Behind each piece there is intention, consideration, and selfless devotion of time. In fact, a great deal of back pain inducing time, but time incredibly well spent nonetheless.

My work varies from large statement pieces to small dainty adornments, perfect for everyday wear. It consists of Argentium Silver and 14K gold vermeil. Everything, including the casting, is completed in my studio with the exception of the vermeil finish (for quality and certification purposes). All jewelry is nickel free and made in the most ethical ways possible.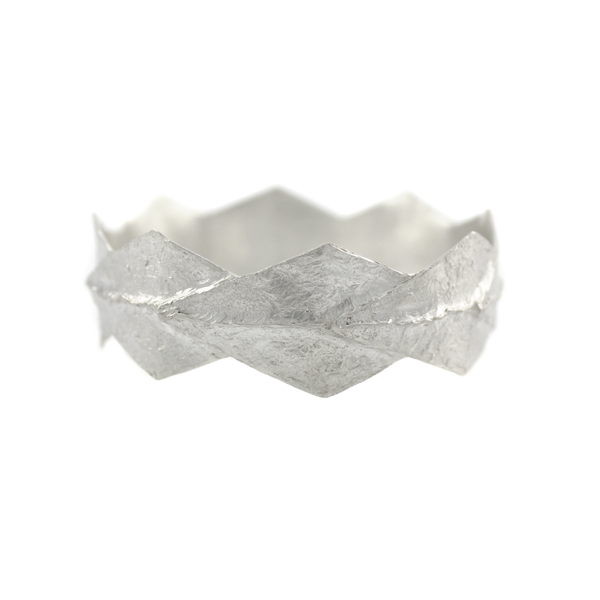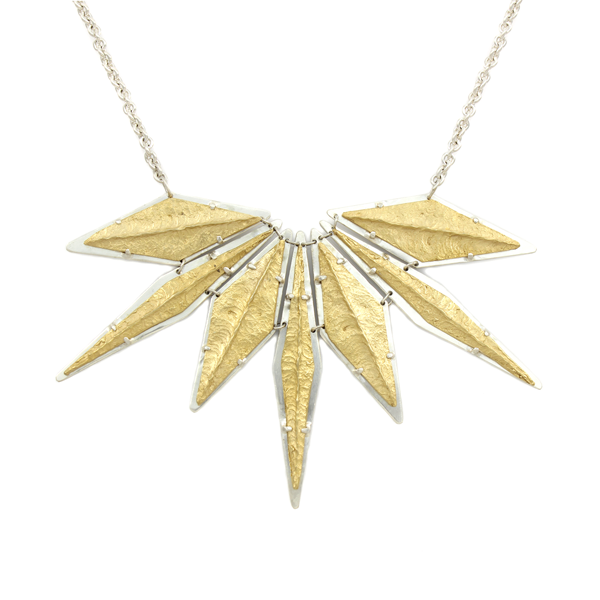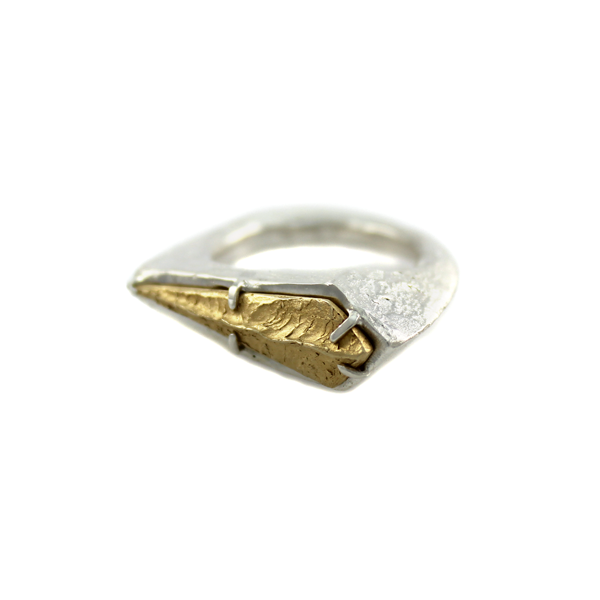 I plan to have my entire collection, plus brand new one-of-a-kind pieces with me in Asbury Park! I can't wait to see you there! Find me at booth #7!