With everything going on in our country right now, it is so important to support small businesses. Not only this holiday season, but all year round! Shopping at a small business benefits your local economy much more than shopping at a big box store – it generates 3.5x more wealth for your local community in fact! It is also WAY better for the environment, as mom + pops are more likely to reuse and recycle materials. These are just a couple of broad examples. A curated shopping experience, better customer service, higher quality products, more unique items….oh, I could go on forever. But I'm preaching to the choir here, right?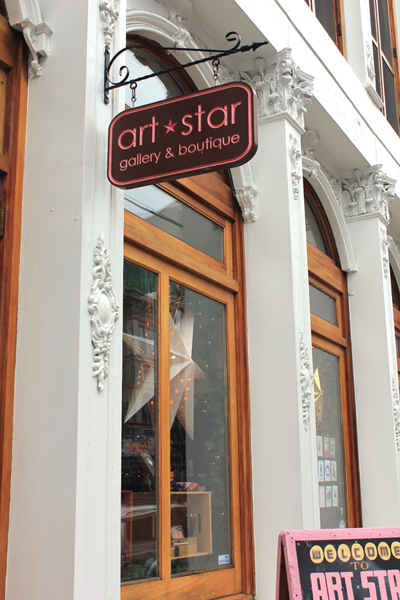 I know it is tempting to just sit in your pajamas and buy all your gifts on amazon, but that's kinda boring don't you think? Instead, why not get some exercise and explore Philadelphia's multitude of amazing gift shops. You can easily find gifts for everyone on your list. Of course, we'd love for you to come do all your holiday shopping at Art Star (hey we'll make your life easier and even wrap it for you!) but we know you can't get EVERYTHING here. So here is a list of some of our favorite local shops that offer fantastic gift items and a lovely shopping experience.
Omoi
My number one favorite store in Philadelphia. The most perfect design and lifestyle store.
Select 215
Sister shop to Omoi and just as special.
Once Worn Consignment
The BEST collection of second hand clothing. She also tends to get a good amount of designer brands.
Jinxed
If you don't know about Jinxed, you've been living under a rock. The most affordable and awesome selection of vintage stuff.
Swag
Remember Fosters Urban Home (RIP)? This is its replacement. Modern kitchen wares, home goods, baby/kid stuff, kitschy/designy stuff.
Ritual Ritual
The most gorgeous selection of jewelry to be found under one roof.
City Planter
My favorite garden shop in Philly. Great selection of plants, planters, succulents, air plants, and they even have ornaments and herbs. Love it!
Brickbat Books
Best book selection for the discerning reader.
Moon + Arrow
Probably one of the best shopping experiences ever due to how absolutely gorgeous the space is. I could live here.
Smak Parlour
Owned by two local fashion designers that create the most darling, girly clothes!
Lost + Found
One of my all time favorite stores that carries great clothing brands at great prices. They also have a wonderful jewelry, accessories, and vintage selection.
The Clay Studio
Their shop offers  handmade pottery by leading ceramicists from across the globe. They also offer classes and workshops so you can make your own ceramic gifts to give this season!
Fante's Kitchen Shop
They have a great selection of cookware, bakeware, cutlery, and more. Basically heaven for the home cooks and chefs in your life.
Fabric Horse
The highest quality cycling bags, backpacks, pouches, lock holsters, hip packs and more
**update** I just got word that her storefront is now closed, but you can still shop her collection online. Everything is still made in Philadelphia here!
Bario Neal
Quality jewelry handmade from ethically sourced materials.
Loop
My favorite yarn shop. High quality yarn and also fantastic customer service. Just go in with an idea of what you want to make and they will give you a pattern and point you to the right yarn and needles!
Last, but certainly not least, I must mention two other wonderful handmade shops – Vix Emporium (West Philly) and Nice Things Handmade (South Philly). Both are owned and operated by lovely women. If we don't have the handmade item you are looking for, these ladies likely will!
So get out from in front of your computer and shop small! What are some of your favorite local shops?