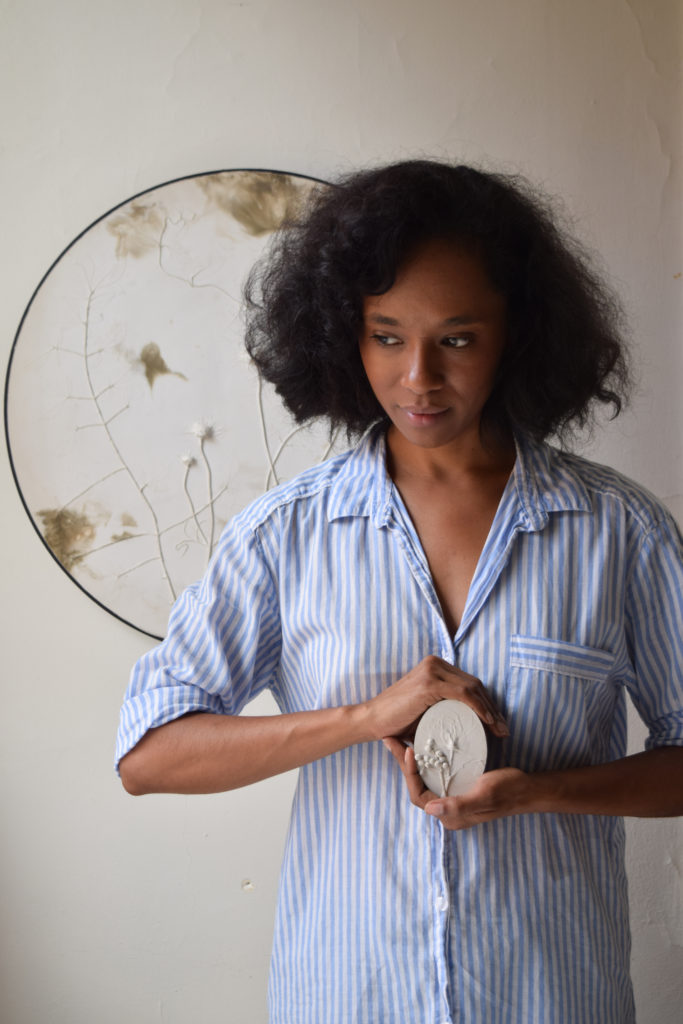 A Poor Girl's Flower
February 10th – April 8th
at Art Star Gallery
Opening Reception: February 10th from 6-8pm
Email us at info@artstarphilly.com if you would like a copy
of the digital collector's preview
Philadelphia based artist, Ron Nicole, will be exhibiting her line of plaster and cement wall art that she refers to as 'flower fossils'. She creates intricate floral compositions by pressing flowers into clay leaving deep impressions. The flowers are then delicately removed and a plaster/cement mix is poured on top. Once the mix sets it is peeled back to reveal a fossil of the floral arrangement, much like a memory preserved in time. Typically the pieces are finished simply. The muted colors of the plaster (often tinted subtly in light grey, off-white, or black) imbue the piece with a shadow-like quality. In this latest body of work, Nicole will be experimenting with color as an expression of celebration.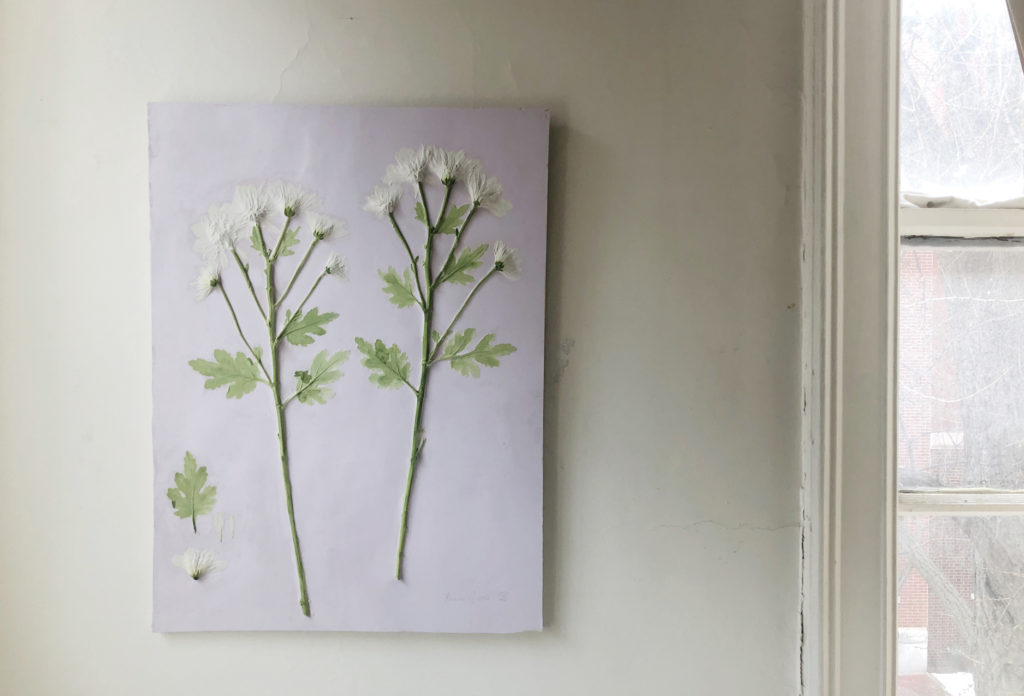 In her own words: This collection is a study of flowers. Flowers mean so much to us. We give them in happiness and sadness. We offer them in celebration, to lift someone's spirit, to wish them well, to say I'm sorry, or just because. My inspired floral fossil are more than creating something pretty. Flowers are beautiful on their own. Their preservation is my way of preserving a memory. As a child, I remember the first time I decided to pick up a pencil to see if I could draw the flower in front of me. To my surprise it was very easy for me and it turned out really well. As a 7 or 8 year old that blew my mind. Growing up in the projects within an urban environment didn't offer many nature like adventures. Playing in a field of flowers would only happen in my day dreams. So I would draw them. Drawing flowers started me on a path that would eventually get me here. This is by far my favorite form of flower preservation. Not only do I get to stop time in it's place, but I can captures all of it's subtle details that I wasn't able to convey in my drawings.
My first fossils started as a blank canvas to show my humbleness and gratitude towards nature and it's natural beauty. This time around I decided to add color as a form of celebration. I'm so happy to be doing what I love and this type of feeling deserves the spot light. Adding color is my way of stepping out of my shell and being proud of what I do. Coloring my pieces represents my ability to not be afraid of success or happiness and the flowers are my dream coming true. This poor girl has found her flower.
About the Artist:
Ronni Nicole Robinson was born in Philadelphia in 1980. She studied graphic design at the University of Maryland and worked for a few years in corporate America before transitioning into the hospitality industry. It was while working at Morimoto in Philadelphia that she met her future husband, David. Before settling down the couple spent nearly three years doing seasonal resort work on the beaches of Martha's Vineyard, as well as on the ski slopes of Park City, UT. Ronni currently resides in the Rittenhouse Square neighborhood in center city Philadelphia with her husband and their two furry animal friends Powder and Liberty.
Learn more http://www.ronnicole.com/
Follow her on instagram for daily inspiration and beauty https://www.instagram.com/iamronnicole/