We are beyond excited to announce our 4th (!) solo exhibition with Minneapolis based mixed media artist and long time Art Star artist, Amy Rice. The show, titled "Curb Appeal", will be up in our gallery space from March 25th through May 21st, 2017. We will be hosting a reception with the artist while she is in town on April 8th from 5-7pm. Light refreshments will be provided.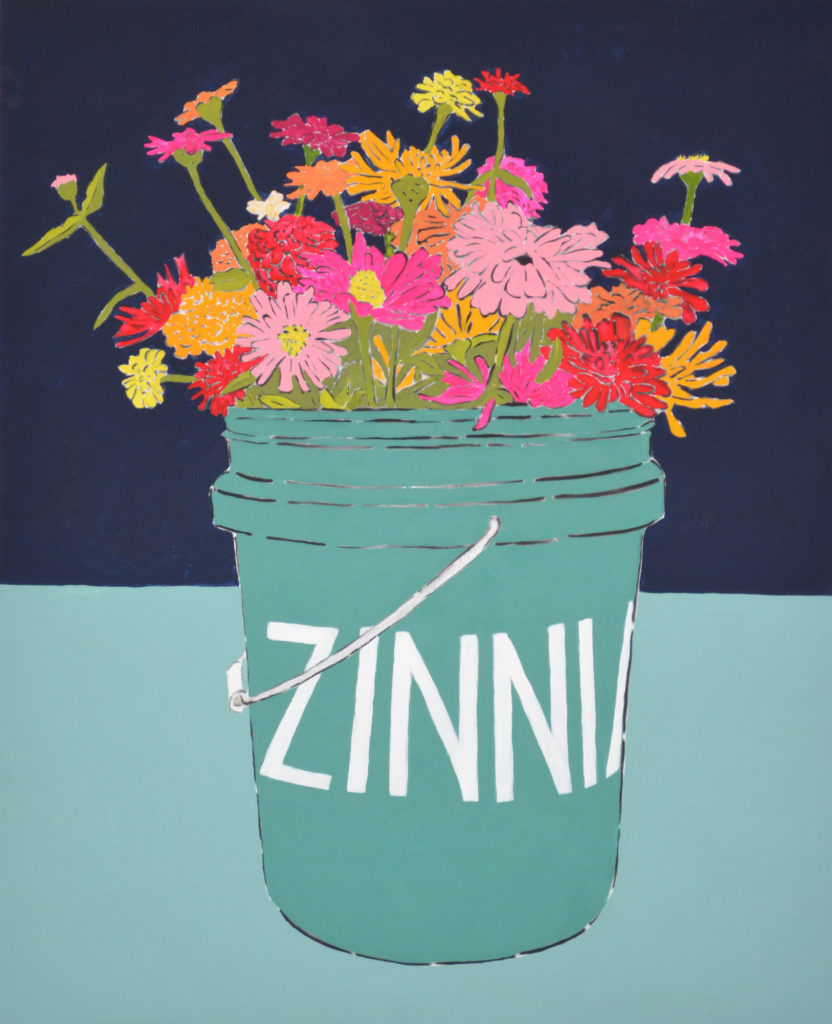 "Curb Appeal" is inspired by Rice's recent purchase of her first home with her partner, Matt. The artist describes her new house as a "seriously distressed foreclosure", so the term "fixer upper" would be putting it lightly. The couple quickly dove into renovations to make their new house their own. Around the same time they also purchased some rural property in what they call a "Scandanavian Pride" town where all the homes have over the top decorations like fancy gables and hand cut decorative window trims. Her latest body of work is an exploration of all that we do to make a house a home – bringing in plants and potted flowers, adding art work, building window boxes, adopting pets, and adding all our own personal flourishes to create Curb Appeal.
Amy recently wrote and illustrated a Zine titled, "How To Grow Zinnias", which comes with two zinnia seeds in hand-painted seed packets. The book will make its debut at our reception with the artist on April 8th. Stop by to pick up a signed copy!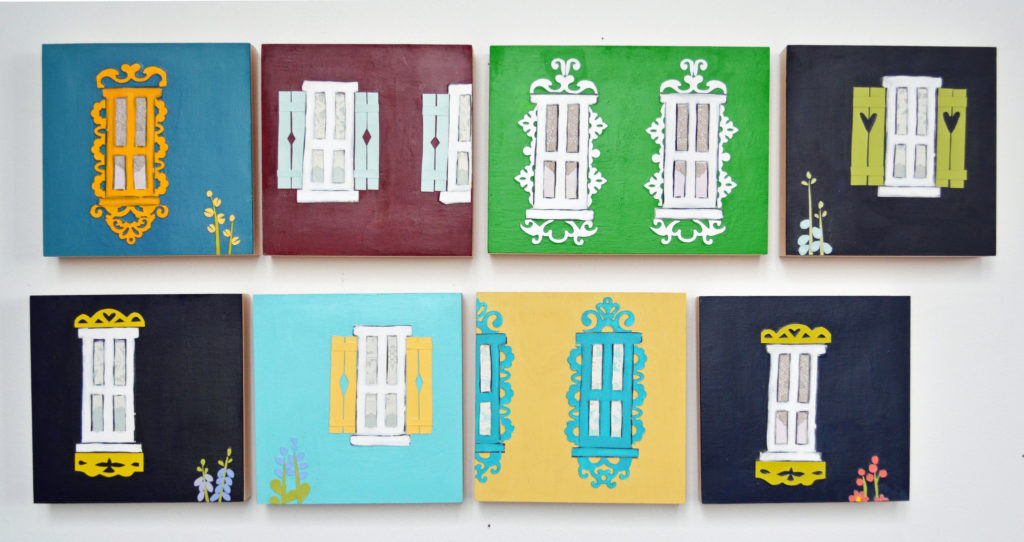 Amy Rice's nostalgic, subtly street art-influenced works are deeply defined by her Midwestern roots. Growing up in a rural area, Rice found inspiration in the surrounding flora and fauna; she naturally developed an intrinsic appreciation for the simplistic yet beautiful things in life. Rice is most satisfied when a tangible or visceral connection is built between the materials used and the image rendered. Her work is deeply layered, often both literally and figuratively. Her evocative, wistful imagery is largely biographical and reflective of her pensive nature.
Using non-traditional printmaking methods such as hand-cut stencils and a Japanese toy Gocco printer as a jumping off point, Rice develops the basis for her signature, one of a kind mixed media pieces. She combines, layers and experiments with many different mediums and tools including enamels, acrylics, gouache, inks, hand-carved linoleum print blocks and a antique letterpress machine. Rice searches out unique and meaningful surfaces that can run the gamut from antique papers such as handwritten love letters, journal pages, sheet music and maps to antique fabrics including heirloom embroidery and feed sacks from her family's dairy farm.
She has exhibited her work extensively in galleries in the US and beyond. She has received the Minnesota State Arts Board Artist Initiative Grant as well as the Metropolitan Regional Arts Board Next Step Grant.
Rice enjoys working themes and imagery into her pieces such as bicycles, found objects, gardening, collective endeavors that challenge hierarchy, acts of compassion, downright silliness and things with wings.