Hi there! This is Megan, Co-Owner of Art Star. We've got so many great gifts to give this holiday season.You can shop for everyone on your list without breaking the bank. All of these items are quality, made in the USA goods that you won't find in a big box store. You will feel good giving these thoughtful, unique gifts that support US independent artists, as well as our small business! So without further ado, here are my favorite gifts this season that are all $25 and under! (pssst, there is still time to buy online, as long as you live within the US! All our items ship out Priority 2-3 day and we ship out the day after you order!)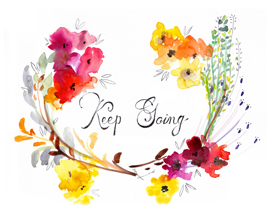 "Keep Going" digital print by Mai Autumn, 8×10″, $20, BUY NOW
I am impressed with anyone who can work in watercolors, b/c I am terrible at it. Mai Autum is a master and her delicate floral prints are some of my favorites in the shop. I love this simple thought – "Keep Going". It is important daily rememinder and a lovely gift for any friend of family member.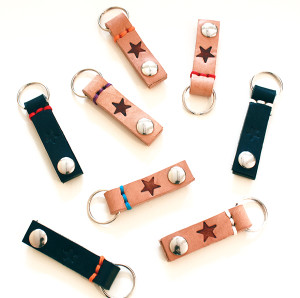 Leather Star Key Rings by Mason Made, $15 each BUY NOW
Both guys and gals will love these simple leather key rings. Features a little snap on the end so you can hook it on your belt buckle or on a bag. I really love the contrasting thread detailing and I'm a sucker for anything with a star on it.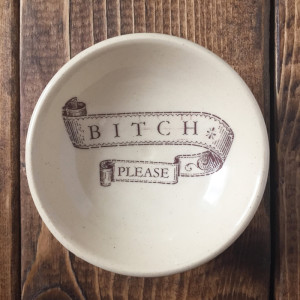 Bitch Please Bowl by Stanley Chester and Albert, $20 BUY NOW
I'm sorry to say, but this phrase runs through my head often. Get it for one of your snarkier friends. They can use it as a jewelry dish or for dips or a scoop of ice cream. Or they can just use it as a catch all. A daily reminder not to take things too seriously.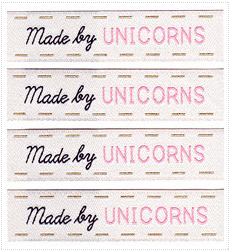 Made by Unicorns Woven Labels by Sublime Stitching, $4.50 BUY NOW
These are great for for all the makers in your life. Not to mention it is by one of my favorite lady crafters of all times – Miss Jenny Hart! Each pack includes 4 sew in labels.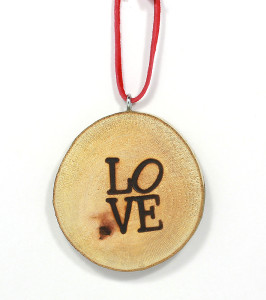 Love Ornament by Mason Made, $10 BUY NOW
These babies have been wildly popular in our shop this season. You can really get one for any Philadelphian and we'll dig it. Makes a great stocking stuffer, gift for a co-worker, or tie it to the top of a wrapped gift as a nice little extra something!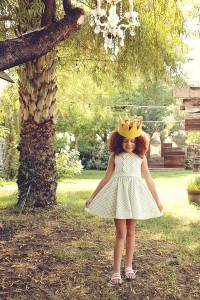 Felt Crowns by Opposite of Far, $24 BUY NOW
For the litte king or queen in your life! I love all products by Opposite of Far b/c they encourage imaginative play and are so very well made. These fit kiddos aged 3-5.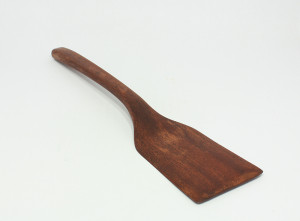 Sapele Turner by E&D Goods, $25 BUY NOW
Lovingly handmade from Sapele wood. These turners would be great for any aspiring chefs or home cooks in your life.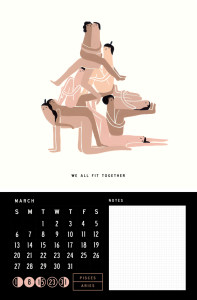 2016 Wall Calendar by Laura George, $25 BUY NOW
Laura George is one of my most favorite illustrators. I love the humor that she imbues into her work. She is my kind of lady! This calendar basically gets you 12 awesome pieces of art b/c it is designed so you can cut them out and frame each one when the year is through.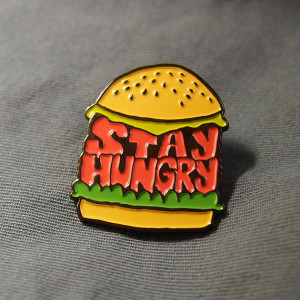 Enamel Pins by Yardsale Press, $8 each BUY NOW
I am so happy enamel pins are making a come back and equally as excited to see Yardsale Press come out with a line. Choose from a bunch of designs!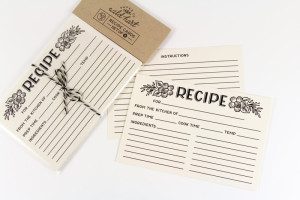 Package of 8 Recipe Cards by Wild Hart Paper Co., $12 BUY NOW
I love all of Wild Hart's designs and these recipe cards are no exception. I think it would be really cute to fill each one out with 8 of your own signature recipes and give to a friend that just got married or bought a new house. Those personal touches are the best this time of year.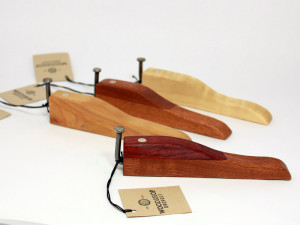 Bottle Openers by Woodshop Dropout $25 BUY NOW
These bottle openers work amazingly well. There is a magnet on each side – one to catch your bottle cap and another to attach to your fridge. I have gotten these for every dude in my life and they all love them. Great gift for dad or the bros. Of course, ladies would like this too. But guys are so hard to shop for!!
And that ends my first Gift Guide of the Season. I'll try to post a few more before the holidays. Go here to shop the full range of products that we offer. Happy Holidays!
xo,
Megan