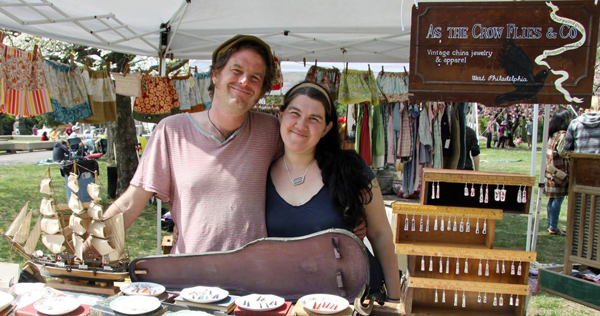 As the Crow Flies & Co is a little family business in West Philadelphia run by Mike and Wilder Scott-Straight. Married for almost ten years, they started As the Crow Flies & Co five years ago combining their efforts. Mike has been making jewelry for over 20 years since he was a youth vending stained glass jewelry on Telegraph Ave in Berkeley, Ca. Wilder technically could have met him then, as they both moved to the Bay Area at the same time, lived in the same neighborhood and frequented the same places. That however, wasn't meant to be and they didn't meet until 10 years later when they had both gone back to the east coast and discovered a mutual love of all things old and the joys of flea marketing together. That joy led to Wilder's vintage plate collection, which led to much of the jewelry that Mike makes today.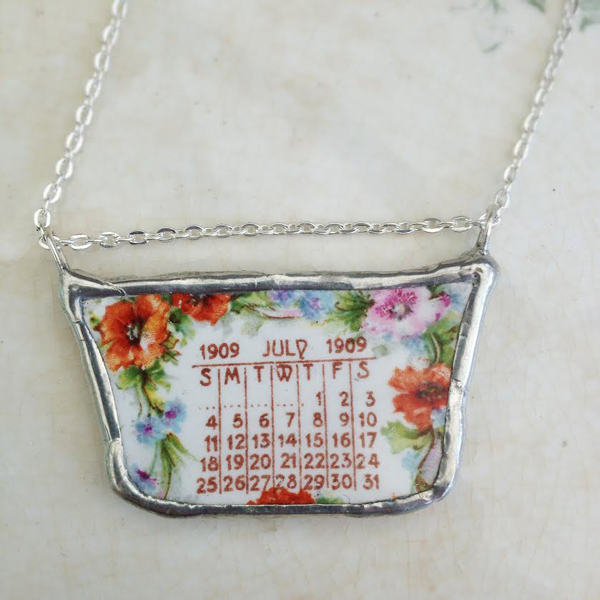 The story goes, that one of Wilder's favorite calendar plates fell and broke. Mike who up until that time had just made stained glass jewelry thought maybe he could make something for her with the broken shards. He made a piece for her and a few more too and soon he was looking around to see what other plates were damaged enough to cut up.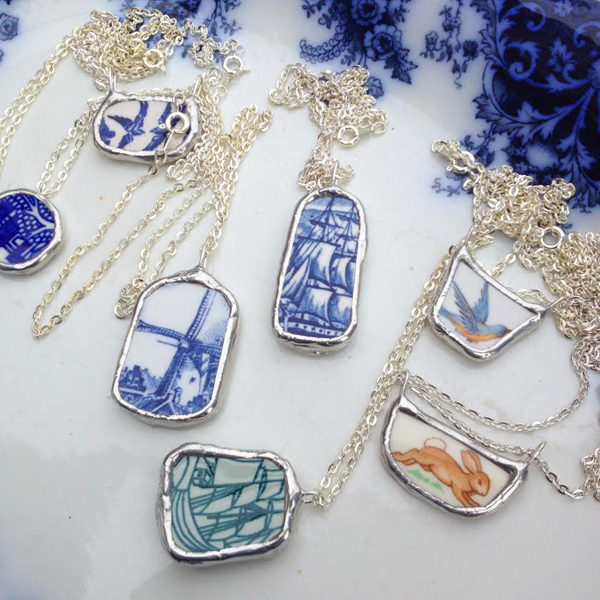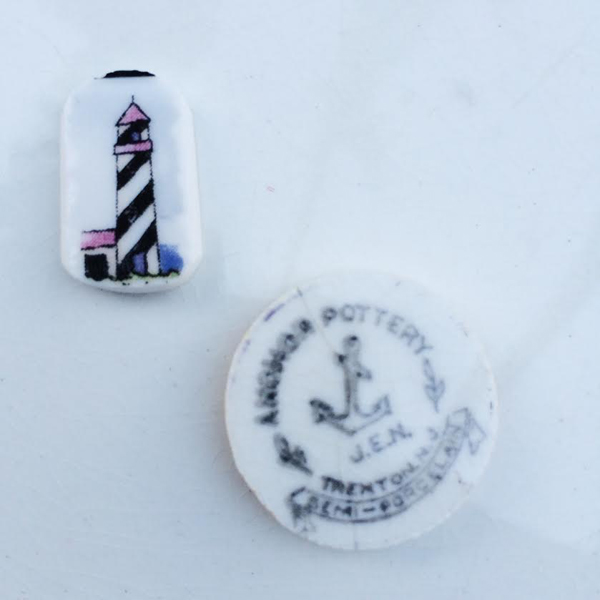 Over the last 7 years he's perfected his technique and his eye. He looks for interesting images and patterns, cropping them carefully from the original plate. He tries to find the stories in these images and hopes you can see them too. He has a love of all things nautical so ships and lighthouses always abound as do birds.  By choosing already damaged plates from flea markets to work with, he brings new life to an otherwise discarded object.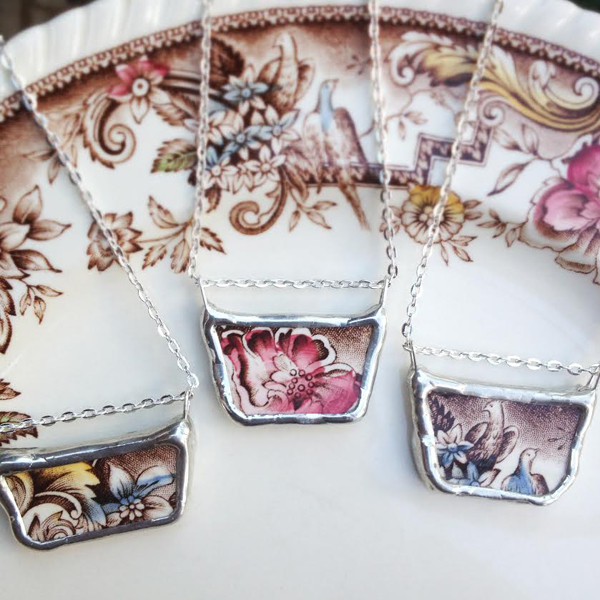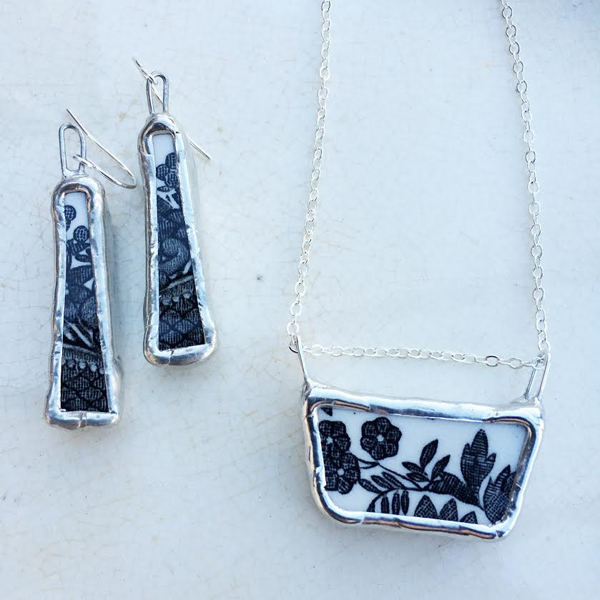 Vintage dishes are storytellers, steeped in history. The original makers in Europe and the US have a fascinating past to them, as do many of the patterns and the places they came from. The original owners, and their stories also have tales to tell. Mike does a lot of custom work from family dishes that have been well loved over time. By making the broken shards into necklaces, earrings and cuff links, families can keep the memories and have something uniquely wearable to show.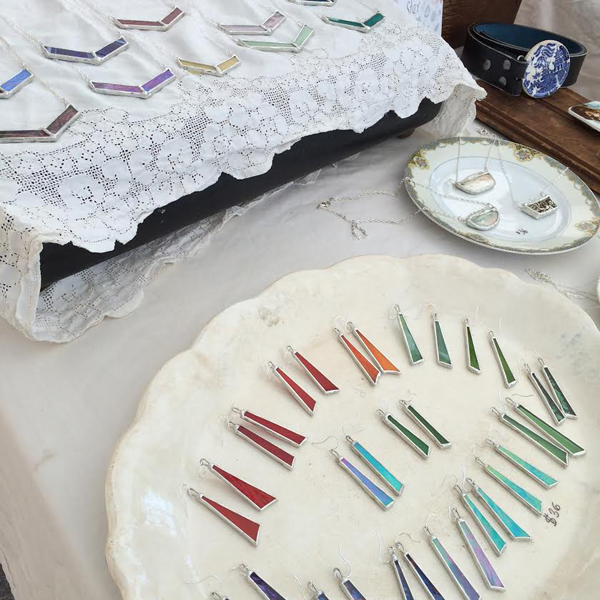 Mike has kept doing stained glass, his first love as well. With an art deco aesthetic he makes earrings and necklaces. Just recently he started making chevrons, based on the windows of his 1903 West Philadelphia home.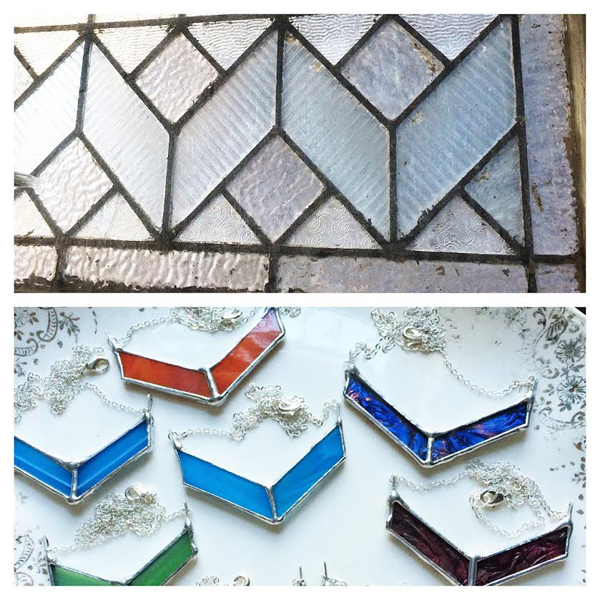 Wilder always had an eye for color and fabric. She originally started with knitwear but when their daughter came along she wanted to make timeless clothes that weren't easily found in shops. Believe it or not she'd always been intimidated by sewing, mostly due to the half broken machines that she'd found in thrift stores and been working on. Her friend gave her some expert advice, buy a cheap, new machine with instructions (this is key) and learn the ropes on that. She did and with a few quick lessons from said friend, figured out sewing was not as terrifying as she'd first thought. It, in fact, was fun and liberating!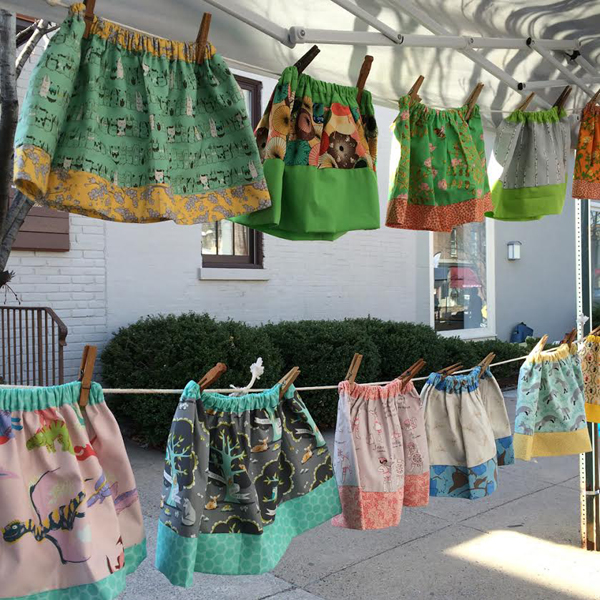 Wilder uses simple, timeless, vintage patterns and combines them with new designer fabrics to create a fresh look that's sweet and harkens back to bygone days. Her inspirations come from her some of her favorite childhood books, Pippi Longstocking, Anne of Green Gables and The Princess and The Goblin.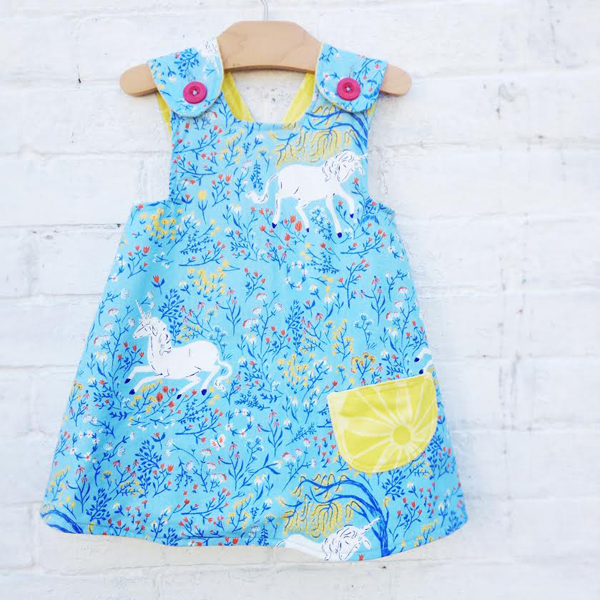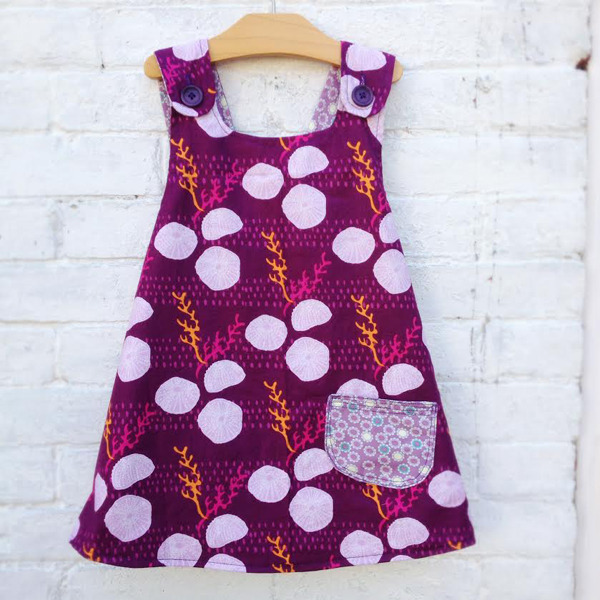 At the moment she only makes girl's clothes but with the new addition of a little boy to the family she realizes boy clothing is going to have to happen soon (look out for it this fall).

Mike is excited to be vending at the Art Star Craft Bazaar in Asbury Park, which was his grandmothers old summer stomping ground in the 1920s. He'll be there with plenty of ships and lighthouses as well as stained glass brights and Wilder's summer dresses and skirts, perfect for the beach.