Words and Images by Jedediah Morfit
http://jedediahmorfit.com/
The problem with sculpture (at least the kind of sculpture I make) is that is extremely time consuming, labor intensive, and expensive to produce, which obviously makes it expensive to buy.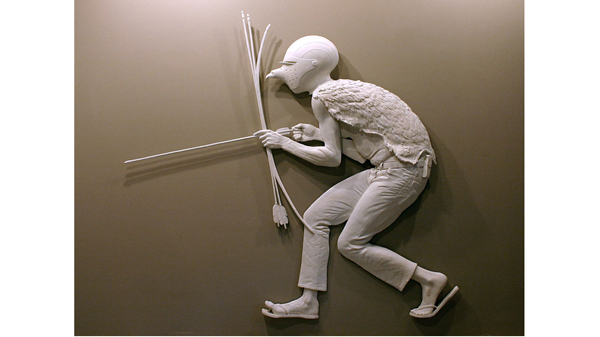 I started working with laser cuts last year, as a way to a) make work my friends and family could actually afford, and b) hopefully fund my ever-expanding studio expenses. This new work challenged me to keep thinking like a sculptor, while using my background as a commercial illustrator and designer to create an accessible series that (crucially) retained its conceptual and visual integrity.
The first laser cuts I made directly re-imagined some of the imagery found in my sculpture. The woman on the left (seen here in "The Price Of Doing Business, Second State", 2011) was among the first bas relief sculptures I made in this series. She was also the subject of the first laser cut I ever made, "Daughter Of The Revolution", 2015.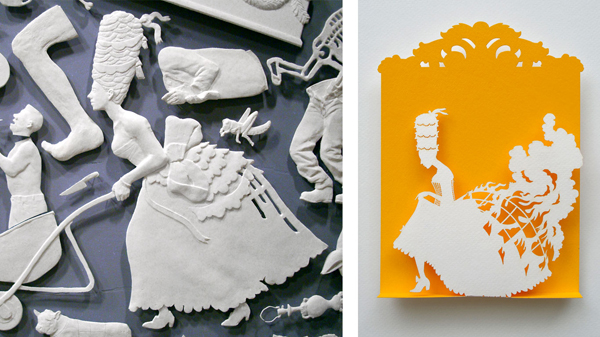 The woman on the right in this image is taken from Brueghel's Painting,"The Dulle Griet". She is seen here in my 2011 sculpture "Paved With Good Intentions", and in the 2015 laser cut "Mad Meg".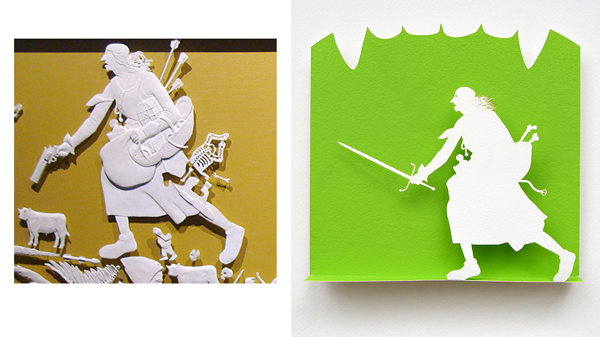 This one is a little harder to see, but the image on the right is a detail of my life-sized sculpture "Mama's In The Arbor". The image on the left is an adaptation of that same figure, is also called "Mama's In The Arbor (Second State)". I have found that working with laser cuts provides a fascinating opportunity to re-imagine the subject through a new lens, where the rules of 3D generally do not apply, and the graphic relationship between color and shape are everything.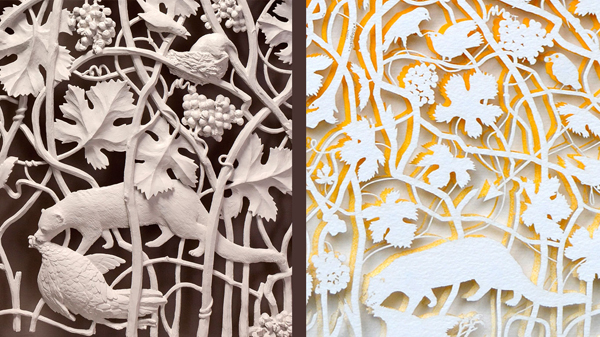 As I gained a better understanding of the process, and the possibilities of the medium, the pieces naturally began to take their own shape, while still very much reflecting my usual aesthetic and conceptual concerns (jumbled imagery, the flotsam and jetsam of consumer culture, the casual violence of daily life, etc.). In this case, the image on the left is from a suite of sculptural furniture that was commissioned to by Atlantic City, called "Flood Suite", 2013. The image on the right is from one of the later, larger laser cuts, entitled "Privateer", 2015.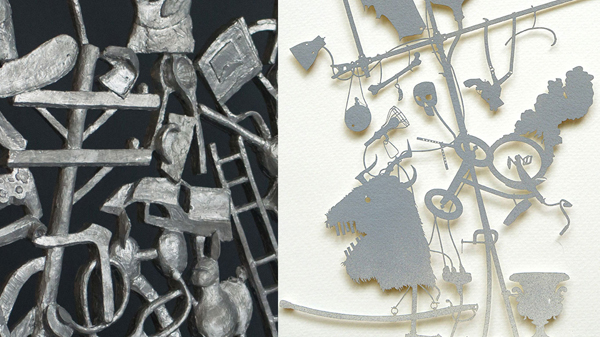 At this point, Illustrator has established itself as my preferred drawing method. Some of the work I will be bringing to the Art Star Craft Bazaar began as sketches for a new body of dimensional sculpture, which is still in the early stages. For me, it's interesting to see the process starting to work in reverse; starting to imagine three dimensional work through a series of works on paper. As I think about it, working that way is probably the norm, but it's new to me, and incredibly exciting.
—————————————————————————————————————-
Find Jedediah Morfit's work at our May 7th + 8th Art Star Craft Bazaar at the Great Plaza at Penn's Landing