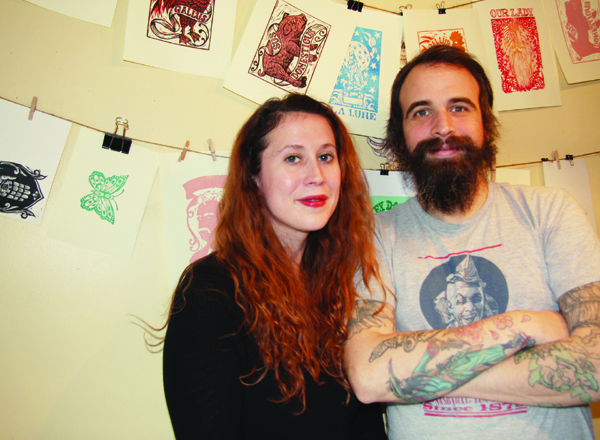 Horse and Hare are me, Kerry Stavely, and my husband Neil Stavely. We started working under this name in 2008 when we opened our Etsy shop, pulling it from our Chinese Zodiac signs. I am the Horse and Neil is the Hare.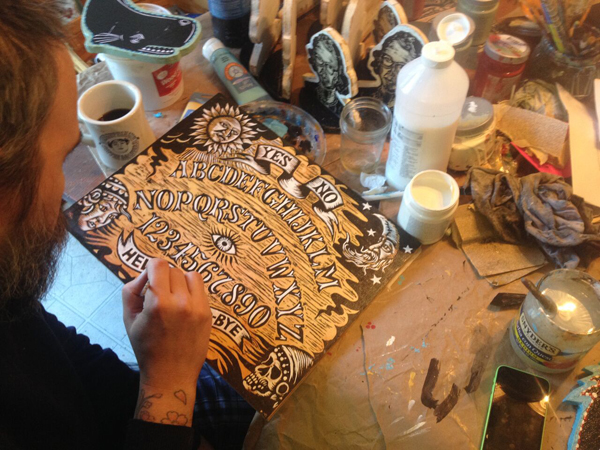 Neil and I met in Memphis, Tennessee while attending art school in the late nineties and have basically been together ever since. We later moved to Winchester, Virginia where we continue to work and live to this day. We do our work mostly out of our home but also have a gallery/handmade retail store here called Tin Top which serves as a home base for us to showcase our work as well as the work of other artists and crafters from around the U.S. We have some studio space there as well and our beloved letterpress lives there too.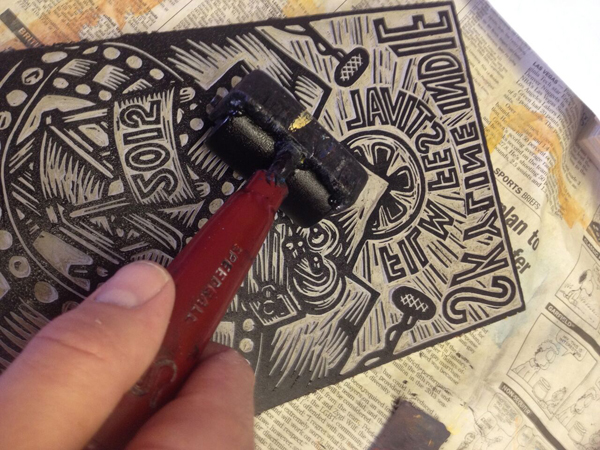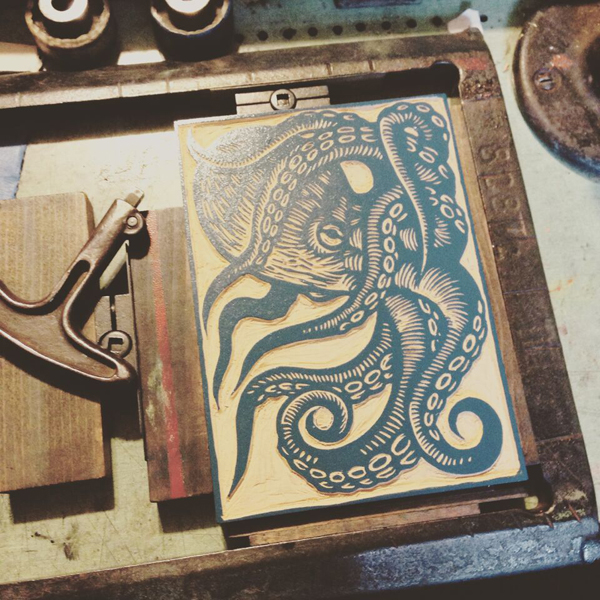 Although our work is rooted in linoleum and wood block printing, neither of us focused on the medium very much in school; we came to it as a way to work on smaller projects that we could easily pick up or put away when our daughter was young. We started off just doing linocut prints but it grew from there and has since evolved; exploiting the medium in more experimental and playful ways, creating mixed media works and semi-sculptural assemblages and carved paintings. Now we do everything from commissioned design work, to our own prints, wearables and home goods to one of a kind fine art pieces.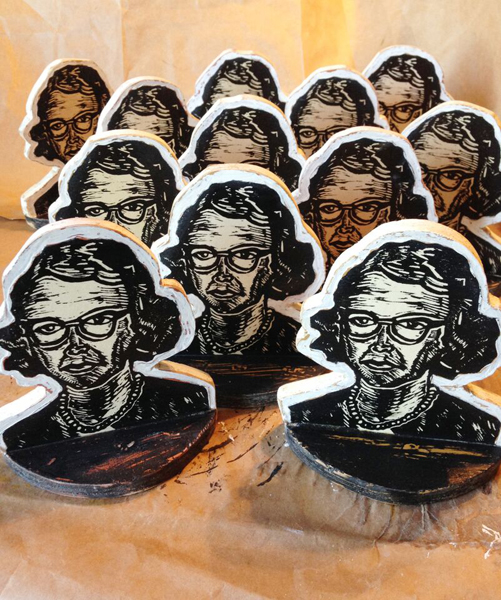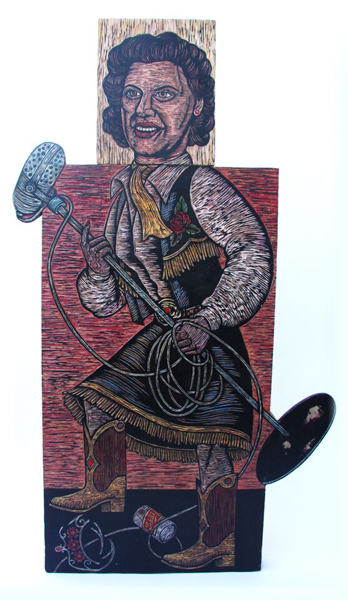 The subjects of our are work are pulled from history, literature, occult/spiritual symbolism and iconography, and the natural world. We like to blur the line between art vs. craft, low brow vs. high brow. Despite the diversity of content, the work is tied together stylistically which primarily comes from the block printing medium but also from our approach.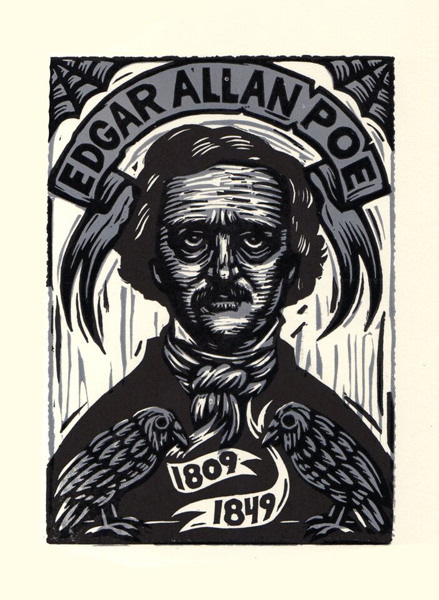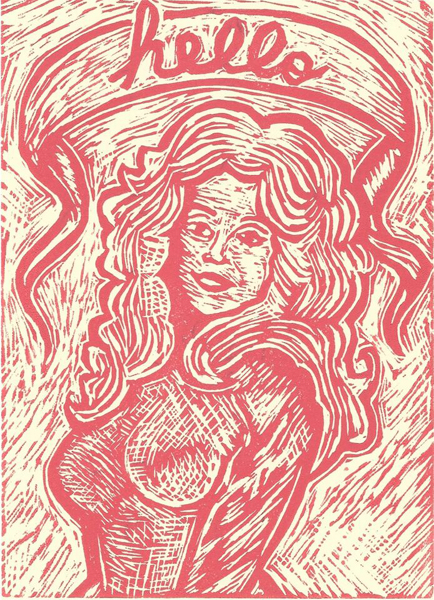 A lot of people ask us if we work collaboratively on pieces. Usually we do not. Although we think of ourselves as team, our collaborative process is mainly on the conceptual level, whether it's bouncing ideas off each other or giving each other constructive criticism. On occasion we might work on the same piece but it's pretty rare – we both have a hard time relinquishing that control!Again our work is tied together due to the nature of the medium but our styles are pretty different. Neil's work tends to be more controlled and illustrative whereas my work is rougher and more expressionistic. All in all though, I think we work pretty well together!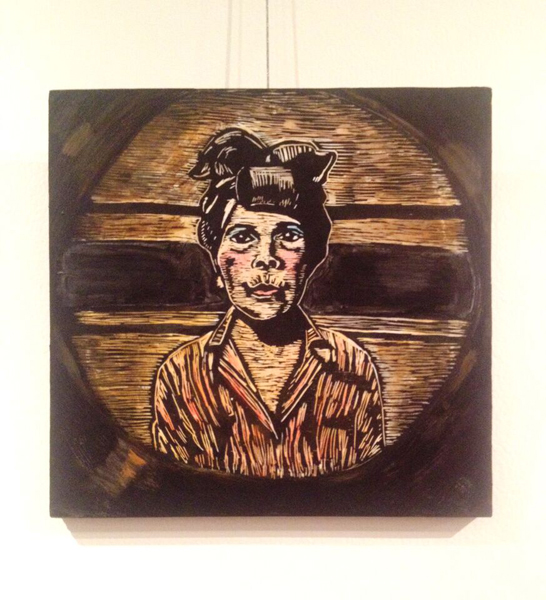 Neil and I, on average, only do a couple art fairs a year. This will be our first adventure to Art Star and Philadelphia together, we are really excited about it!
————————————————————————————————————–
Find Horse and Hare at our Upcoming Fall Art Star Craft Bazaar on Nov. 7th + 8th. or visit their website here