Hi! I'm Maris, and I'm the creator of Naturalists Cabinet. I make nature inspired necklaces, earrings, cuff links, and tie tacks from basswood. I use wood burning pens to draw each piece by hand, and paint them with inks and liquid acrylics.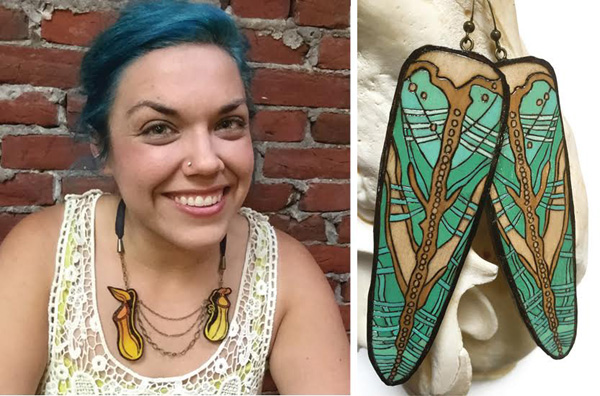 The name Naturalists Cabinet was inspired by what's known as a cabinet of curiosities, which are showcases for nature specimens. They were very popular in the Victorian era, when people of all backgrounds were fascinated by the natural world, and would build collections to display in their homes. Most of my jewelry depicts plants, small animals, insects, reminiscent of the types of things found in a naturalist's cabinet. I really enjoy creating pieces featuring things that a lot of people may overlook or wouldn't think of as beautiful, like seed pods or mating slugs, to hopefully make people reconsider them from a new perspective.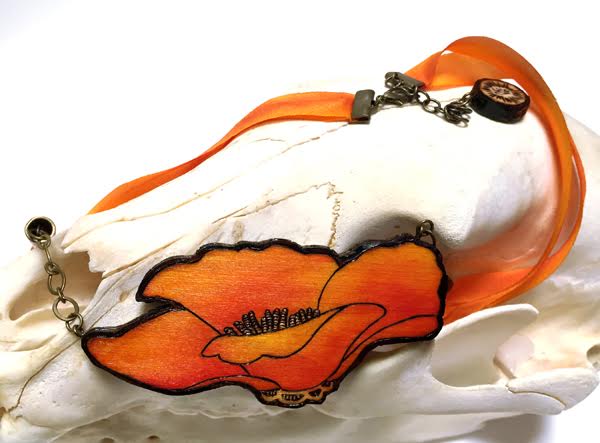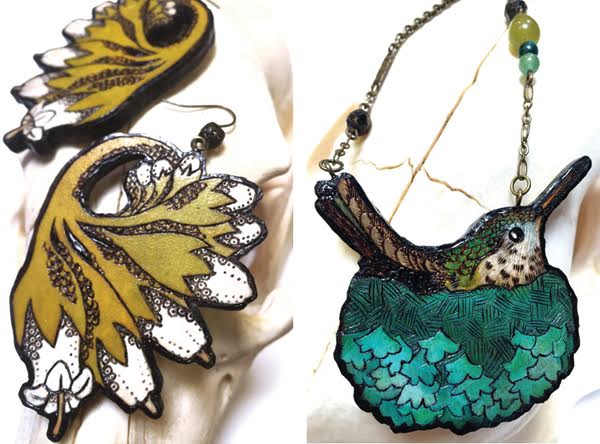 I spent my childhood playing in the woods, wading in ponds, and digging for fossils in the back yard. (We hit a layer of concrete about four feet down once, and were convinced we hit the next layer of the earth's crust.) I went to the University of the Arts for illustration and design after considering studying biology, and most of what I make still tends to be centered around my interest in science. I've frequently had a hard time sticking with a specific medium or project long enough to get a good body of work started or a book finished. A changing moment for me was learning to work with this trait rather than try to force myself to be more disciplined. I realized I needed to have many different components to one piece, which led me, somehow, to the idea of making jewelry using a variety of materials and tools. After trying a number of other directions, I remembered the scroll saw and a wood burner I had as a kid, and thought it may be the perfect way to bring more drawing into the process. Also, I've come to the conclusion that I gravitate towards things that can permanently damage my fingers…
So a few years ago, I dug my saw out of my parents tool garage, bought a fancy adult level wood burning system, and slowly figured out the rest of the pieces. I've been building the collection I have today for about a year, and started showing craft events last summer. Now, I get to come up with new designs all the time, sand wood, saw, draw with hot things, paint, drill, and I actually have a reason to buy fancy papers and beads, so I haven't gotten bored yet!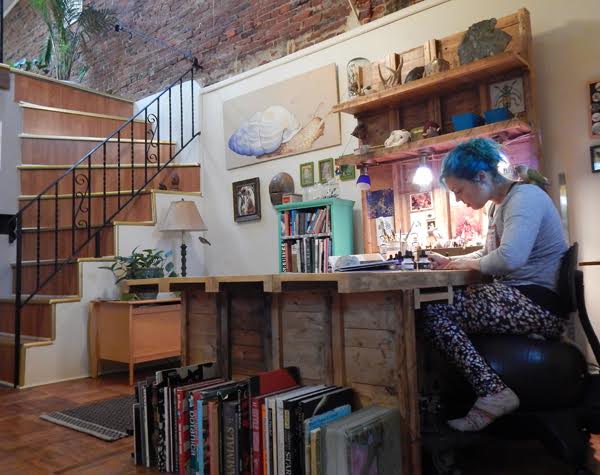 My studio space is in the apartment I share with my husband and our bird, Turnip, in West Philly. I absolutely love having my workspace at home. I strive to run my business as earth friendly as possible. Our whole apartment is run on wind energy through a third party supplier, and all the materials I use are recycled or sustainable, including the packaging, and I use cruelty-free animal parts, a lot of which I prepare myself. (People love bringing me dead things.) And a piece of paper containing wildflower seeds is included with each box!
Since I was young, I've felt a responsibility to do at least my small part to contribute to wildlife protection. Part of the motivation for starting this business was to be able to donate part of my profits to environmental conservation. 10% of everything I sell is donated to an organization that corresponds to each piece. These are the Nature Conservancy, the Arbor Day Foundation, Ocean Conservancy, The Xerces Society, and Bat Conservation International. I've chosen these groups because they use their donations honestly and effectively, are committed to using methods based in science and research, and they work to educate and engage the communities surrounding their projects in a sensitive manner. I hope people will be inspired to learn more about conservation, and think about how they can use their own skills to help the environment, even if it doesn't seem to be connected at first, like making jewelry.
I'm really excited to be a part of one of my favorite craft shows in Philly! Come visit me at booth #49 and geek out with me over science!