One of my earliest memories is the smell of gold luster, the tiny jar of minerals sitting on my mother's studio table (which also passed for our dining table at the time). She was a china painter when I was young, and I'm sure she was frustrated when I got into her precious supplies, but I loved poking through the tiny vials of pigments and oils. So it's always been a bit surprising to me that I didn't start working with clay myself until I was in college. Once I did, there was never another medium that felt so naturally like "home". My father was, among other things, a carpenter at heart, with a full wood shop in our basement, and the ability to execute anything that we women in his life could dream up. Between the two of them, I grew up with a solid love of building and making.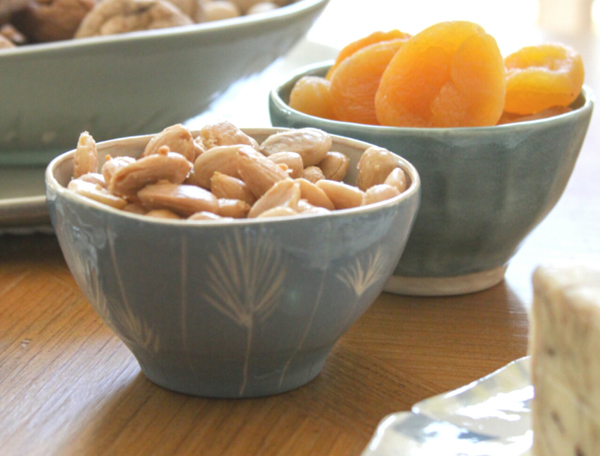 Once I graduated with my Fine Arts degree from The School of the Art Institute of Chicago (SAIC), I struggled a bit to find footing as an artist trying to make a living. This was before the days of Etsy, Instagram, and the amazing makers' movement that's happening now, and there was no real "career path" in ceramics unless you were into the nomadicness of applying for artist residencies. I spent some time working towards a Masters in the History of the Decorative Arts through the Cooper Hewitt National Design Museum, but as much as I love curating, that "publish or perish" environment of museum life didn't feel like a good fit for someone whose hands itch to be creating. So I took a few years off from art and focused on making a living until the timing was right. Once Etsy emerged onto the scene, I opened a shop with my opposite-coast sister, and between the two of us we started building a small but loyal following. Eventually, her military life took her overseas, and I took over running the shop solo. That was almost 4 years ago. In the time since that change, the focus of the shop has become entirely ceramics. This past year or so I've really pushed myself to create a cohesive body of work, focusing on the level of craftsmanship in each piece, and making sure that when viewed together, the entire collection is recognizably DuTill & Daughters.
I was lucky enough at SAIC to work with instructors who were well-versed in nontraditional approaches to clay, so slipcasting is a regular part of my process.  You'll see repeated shapes throughout the collection, but no two pieces are identical, even if they have similar patterns. With the slipcast pieces, I'll start out by making a mold of the shape I want, then pouring multiple layers of hand-colored slips (liquid clay) into the molds. Once the pieces come out, I alter them by piercing or carving the surface to reveal the interior colors. Sometimes the rims are smooth and even, like the drinkware, and sometimes I'll scallop the rim like you'll see on the berry bowls and colanders.  I use a combination of glazes that complement the colored clays, and leave some exterior surfaces unglazed so you can experience the buttery-smooth texture of polished porcelain. All of my work is glaze-fired to Cone 6, which is a mid-range ceramic temperature, about 2260°F.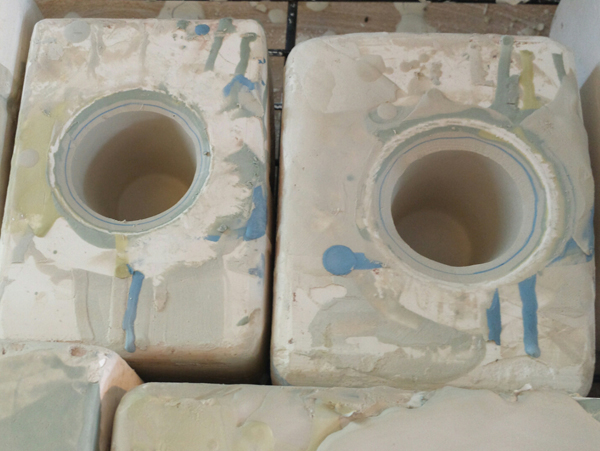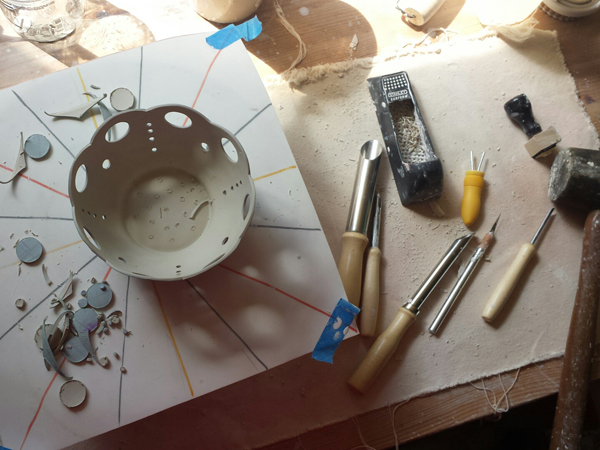 The other main technique I use is called Nerikomi. Nerikomi (this term is used for hand-built work) and Neriage (for wheel-thrown work) are processes that involve stacking and layering colored clays to create intricate patterns. It can be a bit complicated because your clays need to have a compatible moisture content or they'll split and crack during the firing process, but the intricate surfaces that come through this way are like no other process in ceramics. Nerikomi is perfect for making plates and platters, and I will sometimes use this technique for bowls. If you were to break one of these pieces in half, you'd see that the colors and patterns are all the way through the clay, not just sitting on the surface. I love how I can roll, stack, texture, add colors, paint on thick layers of slip, roll again, and come out at the end of the day with these crazy beautiful designs that I could never have drawn out on paper. The three jewelry trays below all came from the same Nerikomi block, and you can see how much variety there is from a single block. It's a process that allows your hands to really be felt in every piece. The Nerikomi pieces are finished in clear glazes with the occasional colored accents, which allow the patterns to shine through.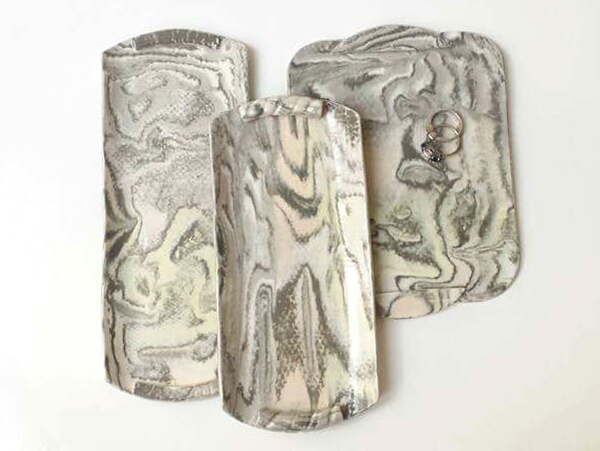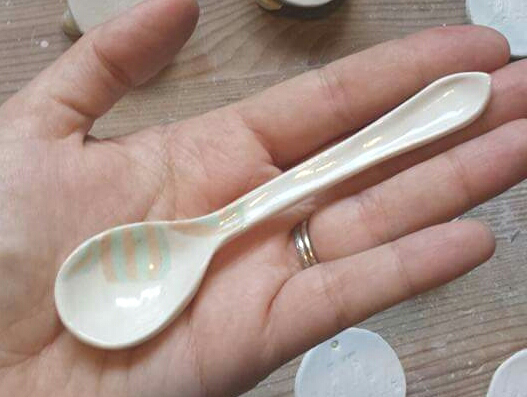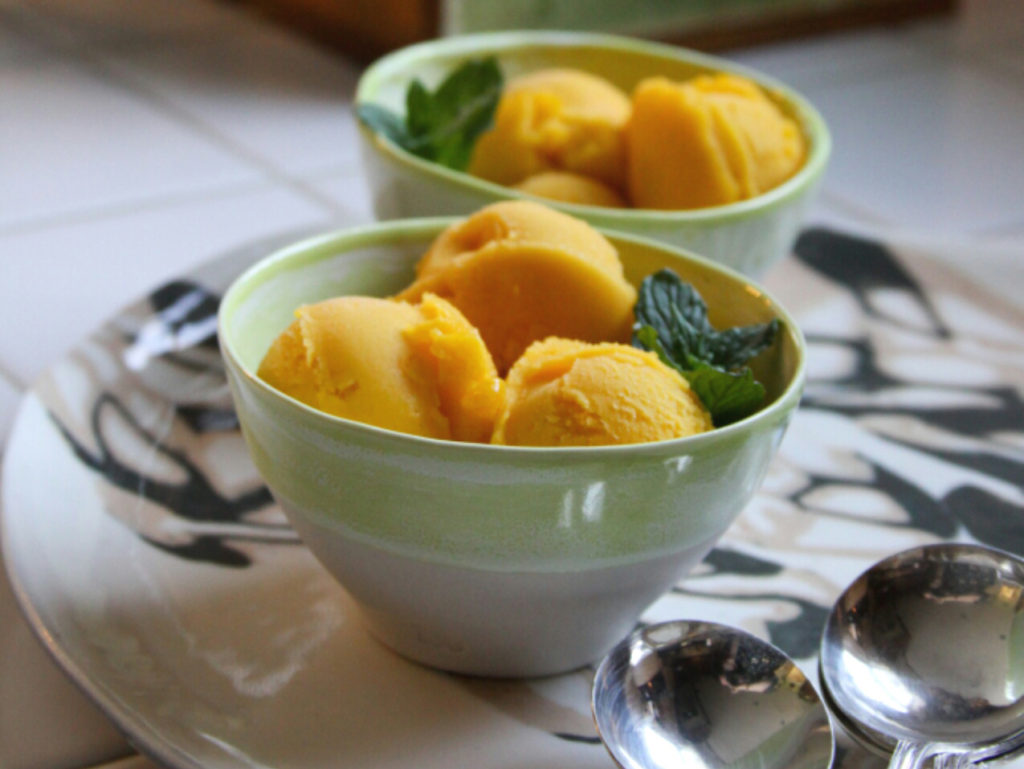 ———————————————————————————————————-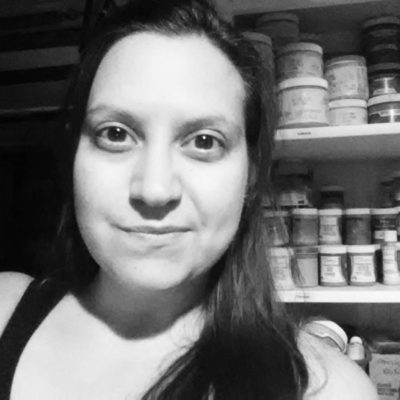 Monique Platt is the designer and maker behind DuTill & Daughters Pottery and has been working with clay for the better part of 20 years. She lives in Cherry Hill, New Jersey with her super-tall, bearded husband, their two astonishing girls, and studio pup/escape artist Nyx. When she isn't in the studio, Monique is probably soaking up other people's art, listening to as much music as possible, or eating pie. Maybe cake. Sometimes ice cream. You can see more of her work at dutillanddaughters.com, and on Facebook and Instagram @dutillanddaughters.
Photo credit: Monique Platt and Renee Zublic.