Jewelry design and metalsmithing is not my first career. For many years I worked in the world of contaminated soil as an environmental geologist. I worked first for the New Jersey Department of Environmental Protection, and then for a private consultant in Manhattan. I handled soil from the testing phase, to the monitoring during digging or dredging, to its disposal. It's not really what I imagined for myself when I was studying geology, but I thought if I could do some good in the world, then maybe it was worth it. However, after 6 years, it felt like it was killing me. I spent the last 2 years of that career scheming new ways to make a living. I was going to open a grocery store in my neighborhood in Brooklyn, because there wasn't anything nearby. I tried creating a line of screenprinted linens. I posted ads on craisglist as artisanal gardener. I made canvas wall planters. I partnered with a friend to start a handbag company. I had to do something else. Anything else. Finally, I convinced my boyfriend (now husband) that we should save up enough money to fully quit our jobs and do a cross country rock hunting trip.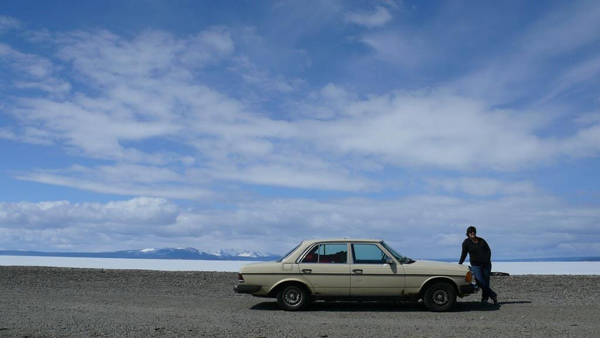 We bought a 1983 Mercedes Diesel Benz for $1400 from a guy in Jersey City. We set out on an adventure. I figured if I followed a path doing things I love, then all the pieces would fall in place. Along the way the pieces came together, and I decided I needed to get a second bachelor's degree in metalsmithing.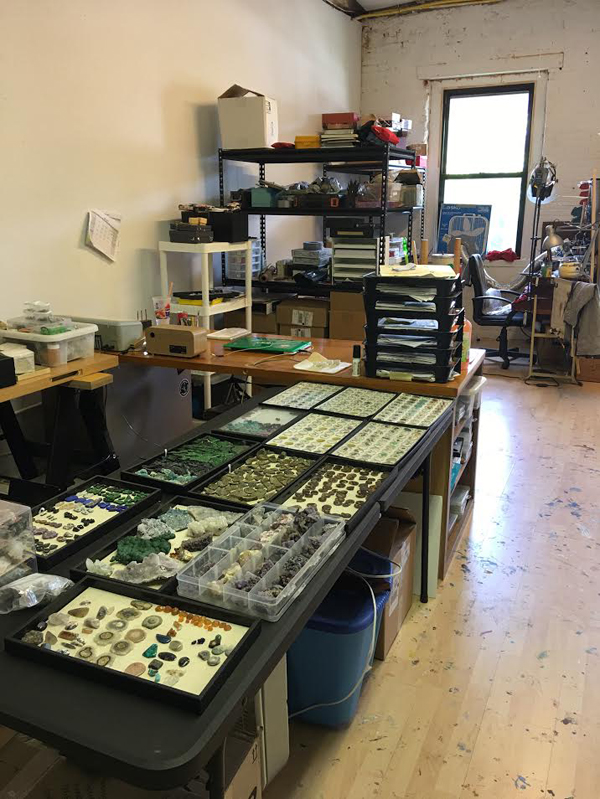 I moved to Philadelphia 2 months ago. I rent studio space in Sharktown Studios, owned by a jewelry artist duo, Ford Forlano.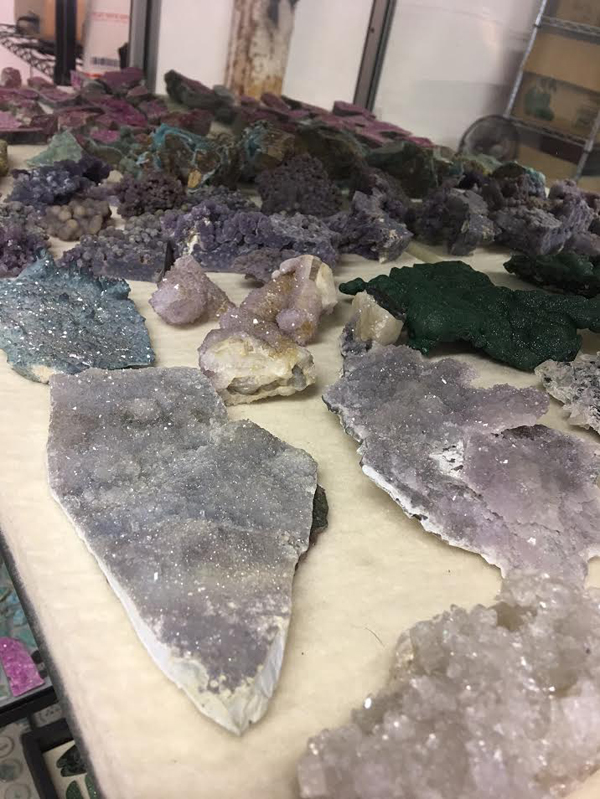 My process begins with my first love, the stones. I have to see all my stones at all times. I love all forms of stones. I have gems, huge mineral specimens, cabochons, and everything in-between.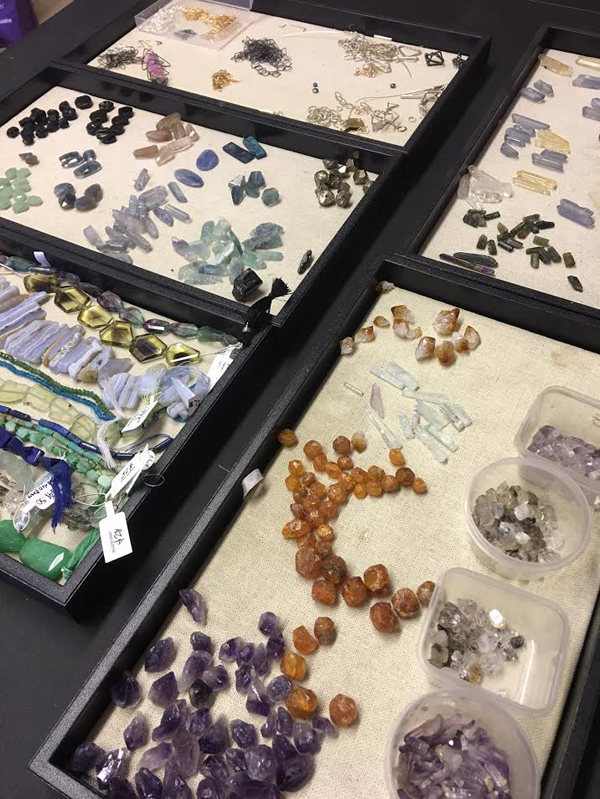 I cut, shape, and drill a lot of the stones that I end up using.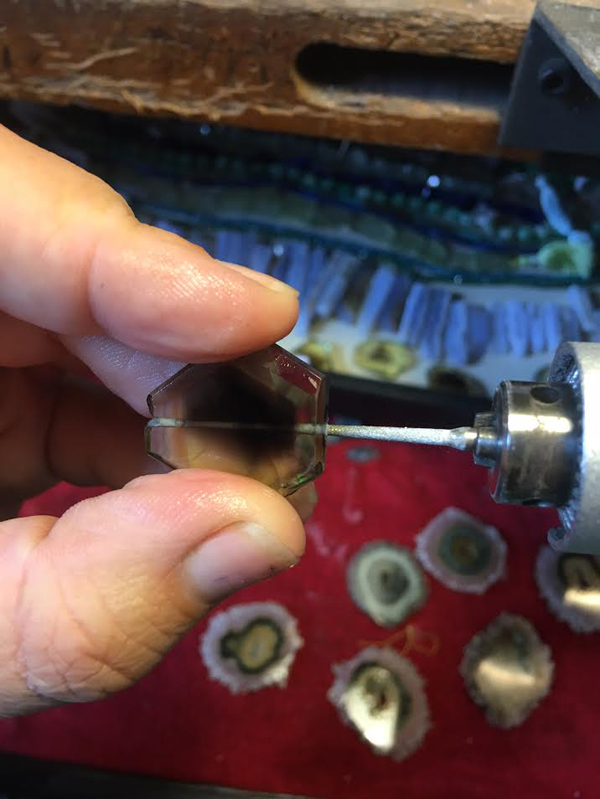 Stones need to be done with diamond coated tools and have to be wet. They heat up very quickly and it can damage that stone. I do most of my work at my bench with a flexshaft. But I also have a trim saw that I use to break down large chunks of rock and to cut away the parts that I don't want to use.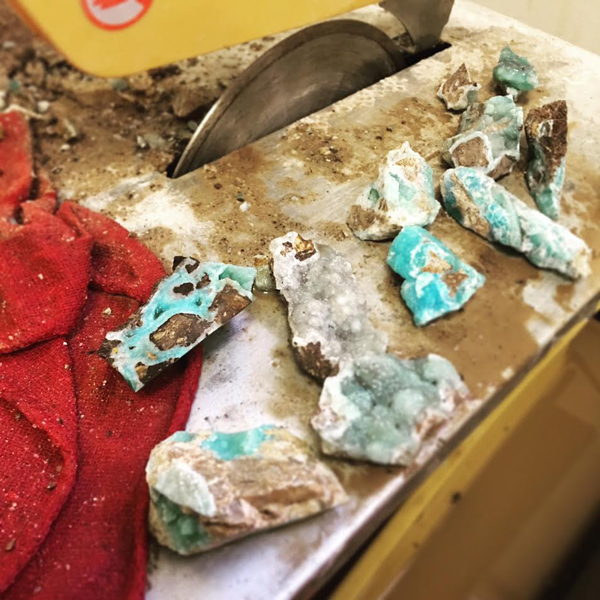 I create 3 different collections, so that I can diversify the different shows I do. My wire collection is my most affordable. I use a lot of crystals and drilled rough stones to create simple, lightweight, wearable pieces while still keeping the design elements that are important to me.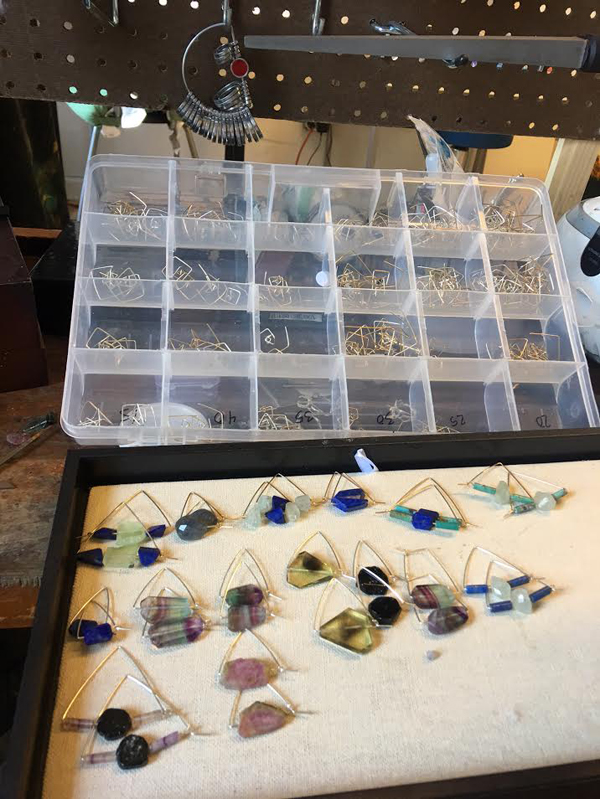 Many of the forms that I create are inspired by crystal geometries.  In general my work is geometric, but with an organic twist.  In nature, crystals have an orderly makeup, and therefore have geometric forms, but nature being nature, they're usually imperfect.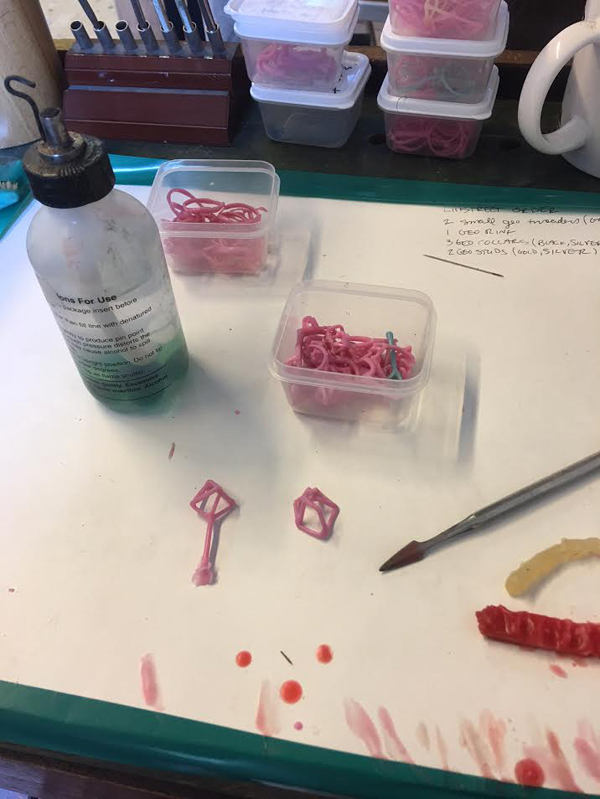 My second collection is  limited production which I can produce quickly for stores.  I create the pieces through lost wax casting.  For this collection I predominantly use traditionally cut gemstones to contrast with the forms that are created in wax.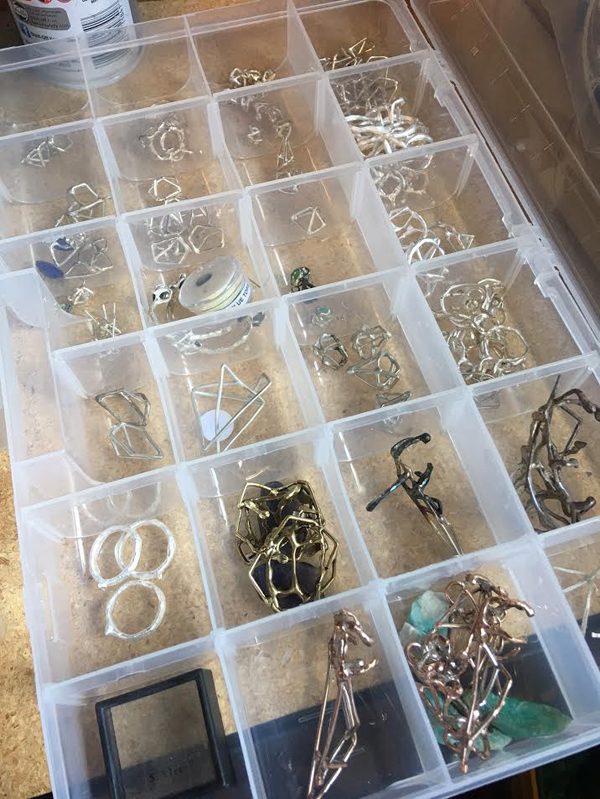 I cast the components into sterling silver and gold and can play around with them to get different variations.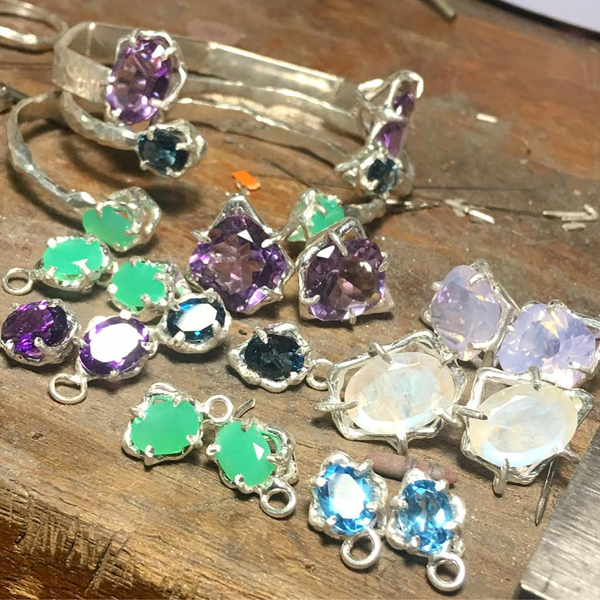 I set the stones in an organic crystal form that I have developed over the years.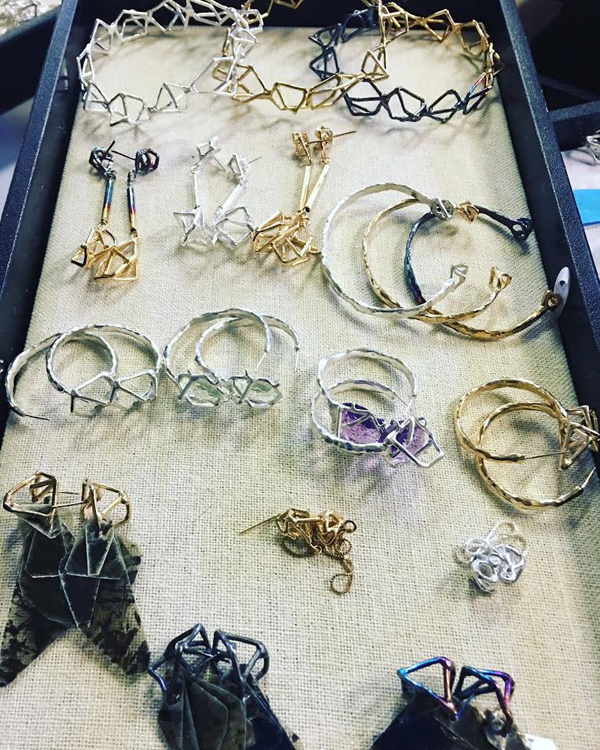 I often do varying finishes for an additional layer of natural affect.
My third collection is what I produce for galleries and high end indoor shows. I'm currently creating a body of work for a solo show at Gravers Lane Gallery in the Chestnut Hill neighborhood of Philadelphia. It is very different from what you would see at the outdoor shows that I do, but looking at it you would still know that it's me.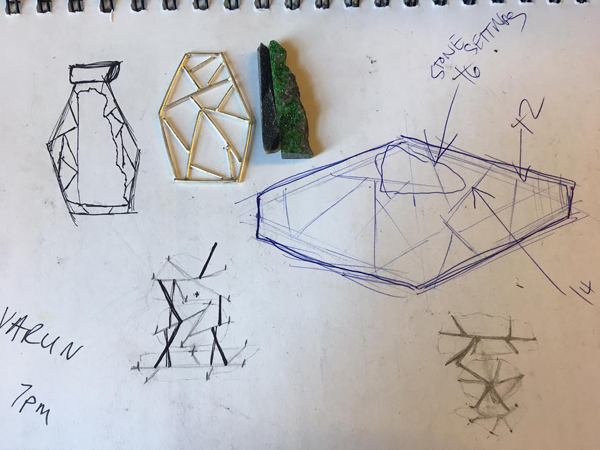 It's all fabricated by hand, and I'm using sterling silver, with 18k gold solder to give a feeling of connection to how it was made.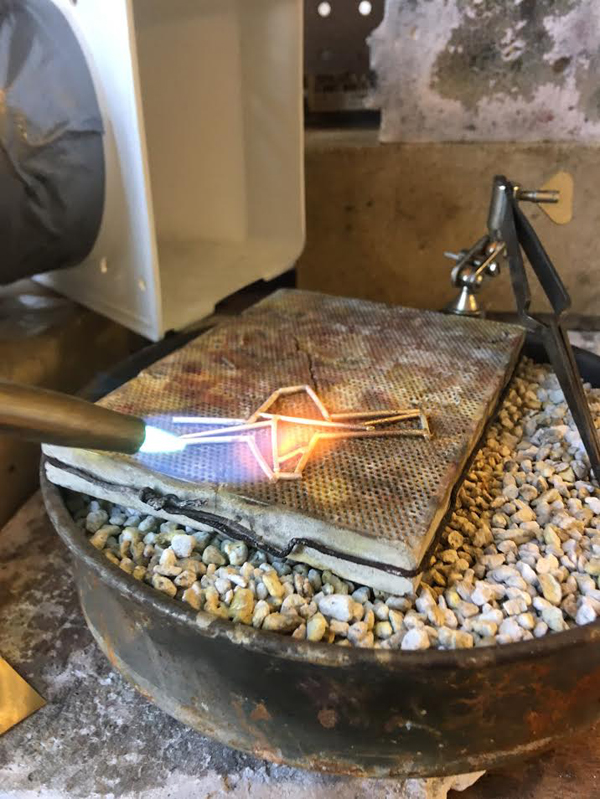 Fabrication takes time, but it creates a finely handcrafted piece of wearable art.  I use an acetylene torch to melt slightly lower temperature silver or gold, into a join to bond 2 pieces of metal.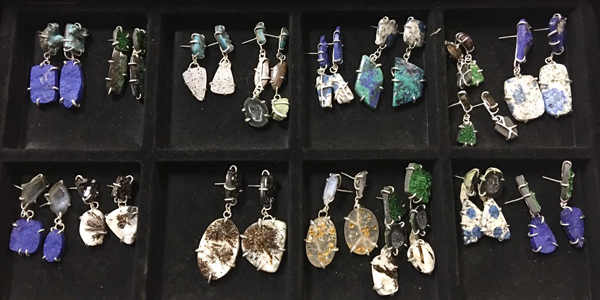 You can check out more finished pieces on my website at www.aimeepetkus.com and follow me on instagram @aimeepetkus. I'll be at Spruce Street Harbor Park Pop-up's July 15, August 5, 12, 19th, and at Asbury Park July 29-30 and 2nd Street Festival August 6. My opening reception at Gravers Lane Gallery is July 13, 5-8pm and will be up until August 20. Hope to see you at one of the events!