We admit it. We're not you're typical craft market vendors. We're the Cardboard Teck Instantute from Burlington Vermont. We are here to Tilt the Future with our PinBox 3000.
Our journey begins with a back story of ten years of puppetry, interactive sculpture, cheap art, and costuming. The process would begin in the dumpster, picking out a choice slice of corrugated board. But in the winter of 2015, we set out to achieve the utterly impractical- a cardboard tabletop pinball machine kit, the PinBox 3000. Our goal is not just to make single works of interactive, playable art. We want to inspire making with the versatility, strength, and accessibility of cardboard. The PinBox 3000 provides a platform for artists to design their own pinball-inspired dioramas, and to share those games with a larger maker and craft community.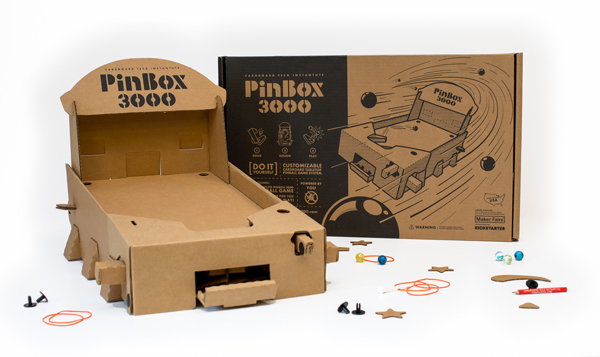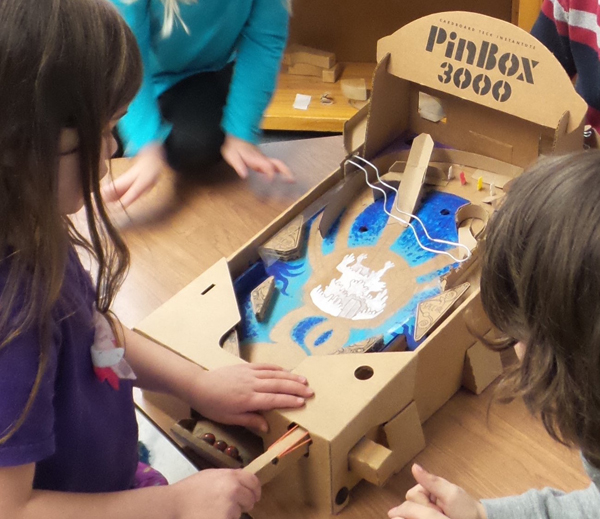 Starting with access to a laser cutter at our local maker space, we were able to convert our hand-cut shapes into vector file images and then into laser cut prototypes, allowing us the opportunity to test run multiple iterations in the same day. Two crowdfunding campaigns landed us at the doorstep of a box manufacturer in Philadelphia where the die-cut PinBox 3000 hit the assembly line and began wide distribution. We've successfully brought the PinBox 3000 into retail, maker faires, summer camps, after school programs, STEM curriculums, and art classrooms with inspiring results.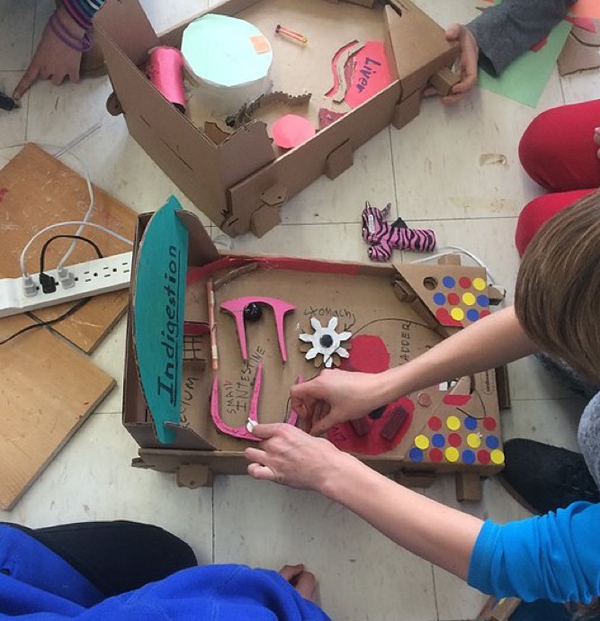 What is amazing about the PinBox 3000 is its ability to accept all types of materials as well as makers. Craft supplies and electronics equally share space in our designs and creations. We've been working alongside artists to develop interchangeable playboards that are produced for limited runs. As artists who have struggled for years to merge our educational experience with our artistic practice, we finally discovered one singular strategy: business start-up. Our mission to Tilt the Future means bringing DIY culture to more households, empowering users to enjoy the process of making, crafting, and playing through designing their own ArtCade with the PinBox 3000.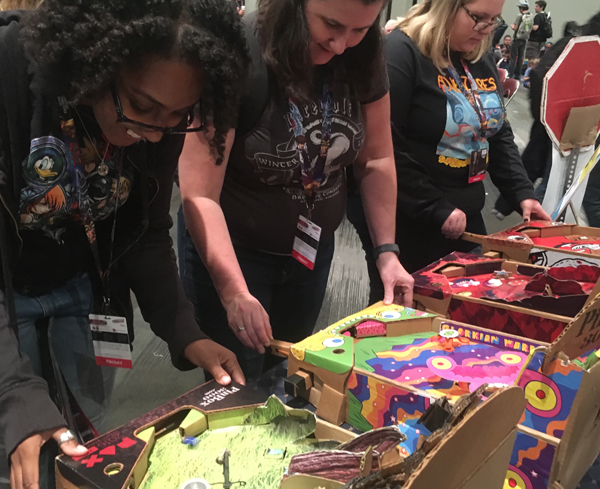 The Cardboard Teck Instantute consists of professors Pete Talbot and Ben t. Matchstick. Our home in Burlington VT is a hive of innovative educators, makers, inventors, game designers, and artists, who all lend support to the PinBox 3000 process. Not to mention the adults who also occasionally have an idea or two for us! We are honored to share this Philadelphia-made art/craft/game/kit/toy to the world, and we're proud to call the City of Brotherly Love our hatchery for this low-tech, kinetic, and eco-friendly game system, the PinBox 3000. Tilt the Future!
Find our more at pinbox3000.com. Come by our booth at the upcoming Art Star Craft Bazaar to flip out at our PinBox 3000 ArtCade.