Tutorial and Photos by Christie Sommers of West Oak Design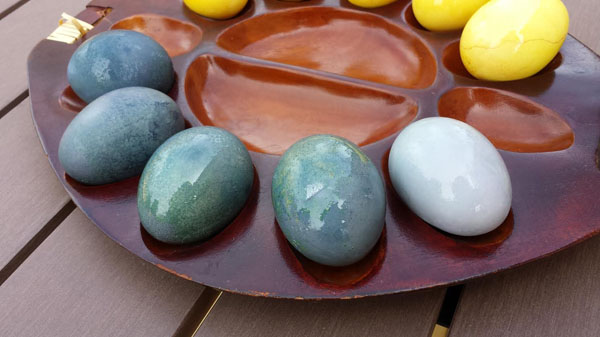 Here's a fun little tutorial that you should be able to do for under $5… unless you use what you already have! Just about any vegetable, fruit or herb that will stain your clothes, will stain an egg.  For this tutorial I used red cabbage and blueberries for the blue, and turmeric powder for the yellow.  My original intention was to make a nice set of color gradient ombre dyed eggs but it didn't exactly work out that way. I was able to somewhat achieve that effect with the blue ones, but the turmeric eggs seemed to stay about the same shade.  If you're looking for perfect, evenly dyed eggs, this may not be for you. I personally love the earthy mottled effect you get from using natural dyes.Here are a few suggestions you can try:
RED/PINK: beets,hibiscus tea, frozen or canned cherries, pomegranate, paprika
YELLOW/GOLD: yellow onion skins, chamomile, turmeric, chili powder
BLUE/PURPLE: red cabbage, blueberries (fresh, canned, or frozen), grape juice
GREEN: spinach, dill
*NOTE last year I used curry powder for the turmeric…. my eggs tasted like curry. If you're into that.. go for it!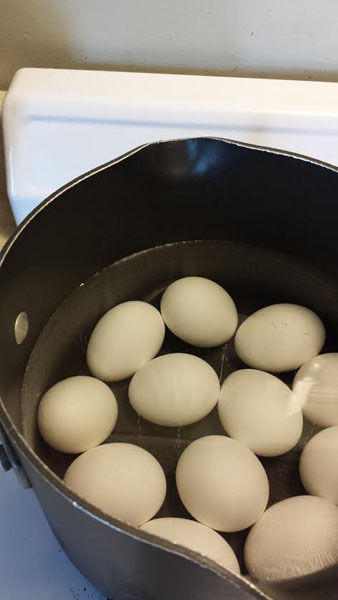 For the blue eggs I used:
– 1/2 dozen hard boiled white eggs (to hard boil: cover eggs completely in cool water, bring to a boil, remove from heat and let sit covered for 7 minutes, then place in cold water to stop cooking process, drain and set aside in the fridge until your dye is ready)
– 1/2 head of red cabbage cut into 1″ chunks
*I had some blueberries in the freezer from last summer that were looking freezer burnt so I tossed them in too.
– a large stock pot
-mesh sieve or cheesecloth
-4 cups water (distilled is recommended but I used tap water because that's what I had and it worked out for me)
*a lot of the resources I checked recommend using vinegar but when I used it last year, all of my eggshells became soft and weird… so I left it out this time and the shells stayed in tact.Start by adding the water & cabbage (& blueberries if you have 'em) into your pot and bring to a boil.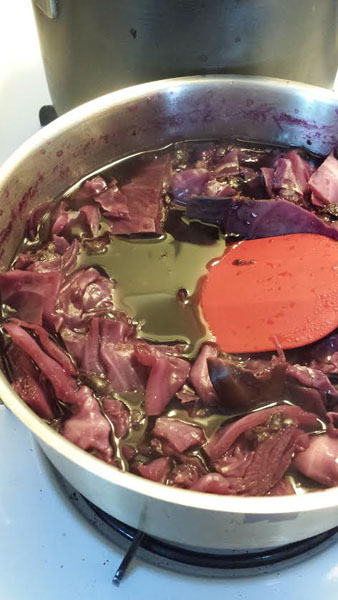 Reduce the heat to low and let simmer for at least 30-45 minutes. You will notice the liquid becoming opaque and the cabbage will start to look drained of its color.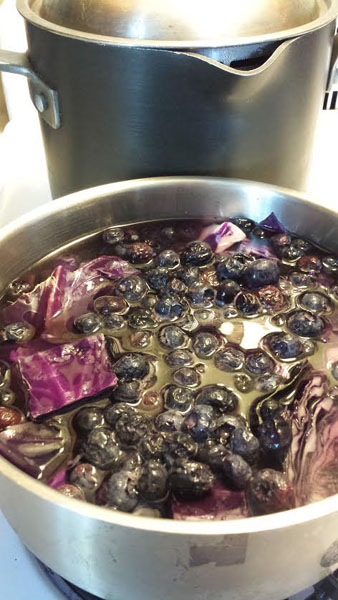 At this point you can strain the solids by pouring through cheesecloth or a fine mesh strainer.You can reduce the liquid at this point making it more concentrated, OR proceed to the next step.
Place the dye liquid into the fridge and let it cool.For an ombre effect:
Place all eggs into the cooled dye liquid and place back in the fridge
Every 15-30 minutes, remove one egg from the liquid.Otherwise, add all eggs to the dye liquid and let sit refrigerated until they reach the desired depth of color.
*This method can be used for any of the vegetables, fruits, or herbs listed. If you would like to try this with the turmeric powder, Use 3 tablespoons turmeric to 2 cups of water and boil until the turmeric dissolves (this is the ratio that worked for me).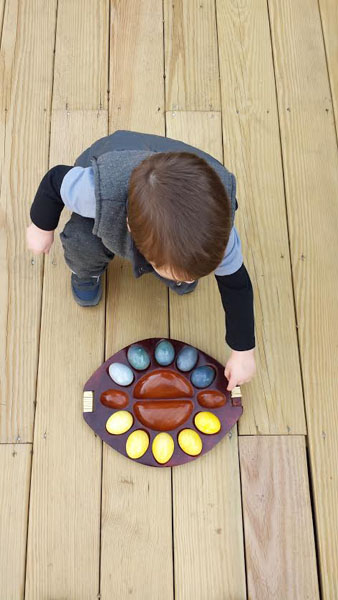 Your naturally dyed eggs will have an soft matte color. You can brush a light coat of vegetable oil on them for a nice shine that will really make the color pop.Hope you give this easy & inexpensive technique a try!————————————————————————————————————————————————
Christie Sommers is the designer and maker behind
West Oak Design
. She handcrafts small batch and one of a kind goods for home, women, and kids in her Wyndmoor, Pa studio.
www.westoakdesign.com