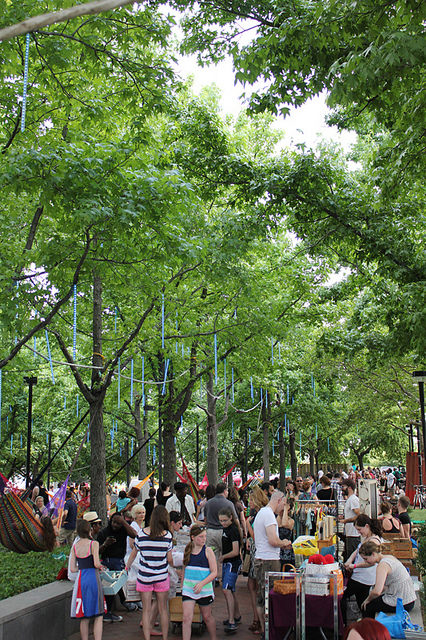 We are excited to announce that our Art Star Pop Up Market will be back at Spruce Street Harbor Park this Summer Season! The Market will take place every Saturday from May 23rd – September 26th from 11-4pm and will feature the work of up to 20 curated art + craft vendors.  Each participating vendor will be set up al fresco style under a tree lined walkway within the popular park.  Shoppers can expect a variety of handmade goods at an affordable price range and the vendor line-up will change each day.
The Spruce Harbor Park is located along the Delaware River between Lombard and Walnut Streets.  The park features a pop up restaurant and bar, a boardwalk, games, live music, family friendly activities and the most popular attraction – HAMMOCKS!  Apparently, the SSHP hammocks were THE PLACE to take a selfie in Philadelphia last summer!
APPLY TO BE A VENDOR!
We are now accepting submissions for the first few weeks of our  Art Star Pop Up Market.  Each vendor will receive an 10′ wide x 5′ deep space.  Vendors are required to bring everything else needed for set up and display.  You may bring a tent (though it is not required) but must leave 5′ of  your tent open for customers to walk through.  For this show, we are going for relaxed, beach vibes, so you are welcome to go all out with your display or you could simply just bring a blanket and lay out your goods on the ground! We are charging vendors $35 per space / per day.
We are now accepting applications for the following dates: May 23rd, May 30th, June 6th. (Look out for another Call for Vendors for all the later dates)
How To Apply:
Email us at info@artstarphilly.com with "SSHP Submission" in the subject of the email
Attach 3-5 digital images of samples of the items you wish to sell
Include a link to your website or etsy page
List the date(s) you would like to participate on
DEADLINE TO APPLY FOR THE ABOVE DATES IS April 30th, midnight.
You will notified of your acceptance by Friday, May 1st.