We are thrilled to announce our next exhibition, A Casual Peach, a solo exhibition by Philadelphia based artist, Kimmy Scafuro. You may all know Kimmy's popular cat butt tote bags, pins, quirky illustrations of pop culture icons (bjork, dancing drake, robyn, beyonce, etc) and ceramic face dishes from her Kimmy Makes Things line. For her first solo exhibition at Art Star, she will be showing brand new work in a variety of mediums – ceramics, embroidery, and 2D drawing/painting.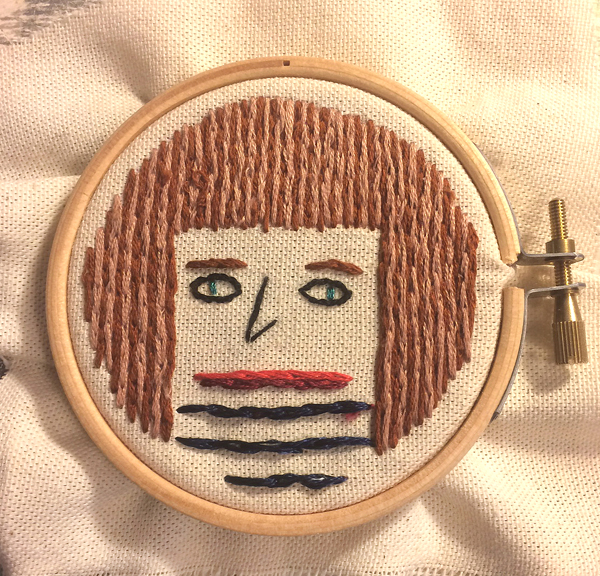 The exhibition will run from May 27th – August 6th. An opening reception with the artist will be held on Saturday, May 27th from 5-8pm. Light refreshments provided.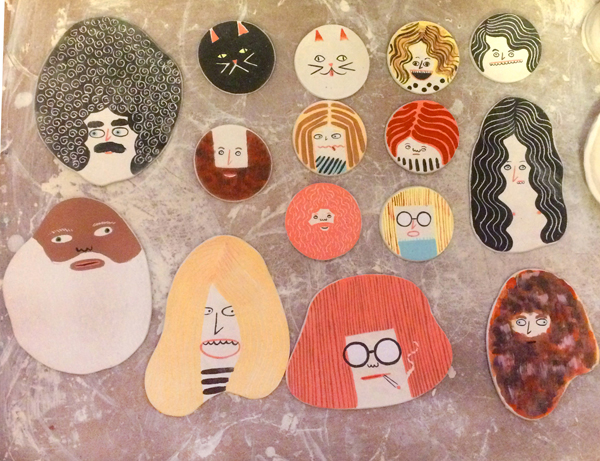 Artist Statement
"As a child interested in art, I took the typical route of learning about it (drawing traditional still lives, copying paintings from the masters, etc). As I've gotten older, I find myself being more inspired by looser, more tongue and cheek art in the vein of David Shrigley and Jean Julien, amongst many others. It's made me think about what it means to be aesthetically drawn to a piece and that super fun, age old question "what is art?". If it looks like something wasn't "hard" to create technically, does that make it any less valuable as a piece of work?
A few years ago I overheard someone at a Matisse exhibit that featured his cut outs, say with disgust: "Well, I could do THAT". I think when I was younger I would have partially agreed but time and experience has definitely changed this and I wanted to explore that shift. As long as I can remember, I've always doodled in notebooks, on the back of receipts and on all possible surfaces. It's very freeing to just simply put pen to paper and not worry about the outcome but I never considered it a finalized product. Simultaneously, I have been wanting to make more tactile objects in mediums in which I don't have much background. For this show, I wanted to marry these two ideas of doodling with ceramics and embroidery to put the doodle into a more finished form. In doing so, the work is created simply for the sake of making objects that are fun and not over worked or over thought. At the end of the day, I like being able to create things that make me happy and that don't feel too "precious. Also, doodling is just really, really fun." – Kimmy Scafuro
About the Artist Kimmy Scafuro was born outside of Philadelphia in 1983. She grew up loving to draw, paint and thinking about what she was going to eat next. Her interest in art took her to Pratt Institute in Brooklyn where she studied Illustration and burrito making. Upon graduation, she worked an array of jobs in NYC, from dressing windows at Barneys to designing bandanas at Ralph Lauren. After ten years, she made her way back to Philadelphia to design textiles and prints for Anthropologie at their home offices. Her thoughts are still mostly preoccupied with food and drawing and she enjoys creating art that makes her laugh. She lives with her 2 cats in South Philly and makes all her things in the studio of her home.