We are very excited about this event, which has been organized by our friend Hope Rovelto of Little Chair Printing. We hope to see you there!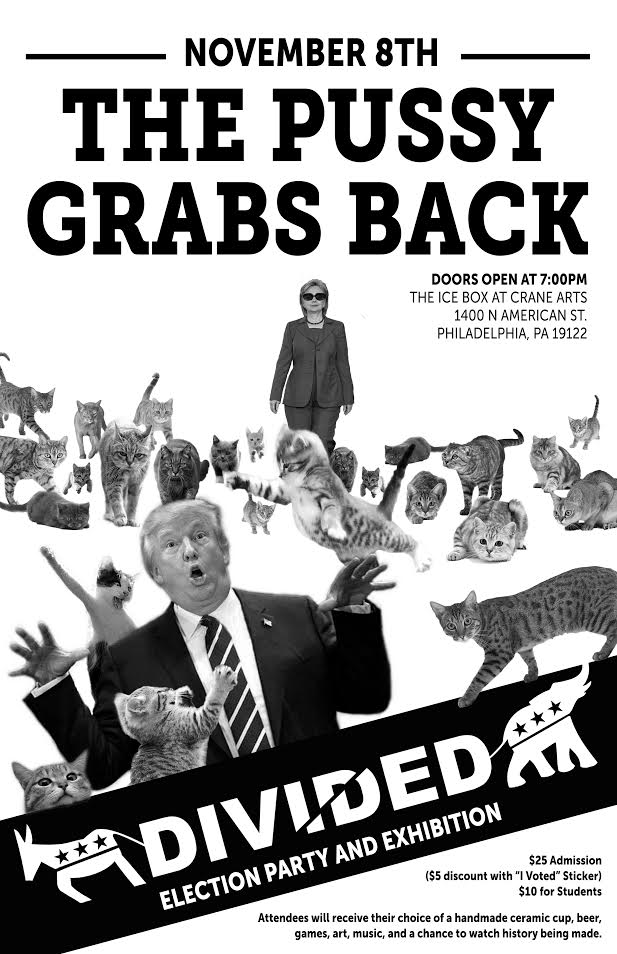 Still DIVIDED: AN ELECTION PARTY AND EXHIBITION
Witness History Direct from Ringside at the Ice Box
November 8 – November 10, 2016
Opening Reception: November 8, 7-11pm
2nd Thursday Opening: November 10, 6-9pm
(PHILADELPHIA – November 8, 2016) The ICEBOX at the Crane Arts Building will host a unique exhibition and election viewing party featuring the work of local, national and international artists. The main event will occur Tuesday, November 8, during one of the most highly anticipated Presidential elections of our time. Beginning at 7:00pm, live feeds of the election results from multiple news sources will be projected alongside an exhibition including politically themed broadsides, newspapers, ceramics, live screen printing of posters and t-shirts, an interactive map of the United States, Zine making with The Soap Box Community Print Shop & Zine Library, live post painting by Yomi and more. Dock St. Brewery will be debuting their newest brew: Pathological Lager.
The goal of the exhibition organizers is to capture and critique the spectacle of political discourse in our media landscape. The division of the gallery into blue and red spaces will mimic and call attention to the passionately divided supporters of Republican candidate Donald Trump and Democratic candidate Hillary Clinton. From the organizers: "The Still Divided exhibition and election party seeks to mimic the tension of our two party system. Even in the midst of a 'united' rhetoric, we remain a divided country."
With an admission price of $25, Attendees will receive their choice of a handmade ceramic cup, beer, games, art, music, and a chance to watch history being made with artists and citizens from the Philadelphia area. Anyone who shows up with an "I voted" sticker receives a $5 discount. Students with a current ID get the "Debt Relief" $10 discount.
For more information about the exhibition, or to speak with the organizers, please contact Hope Rovelto by calling (585) 615-2184 or emailing at hope.rovelto@gmail.com.
Facebook Event Invite