I'm Sammi Nguyen, the hands and brains of a little operation called Group Hug Quilts. My working process is not always the most photogenic, what with piles of fabric scraps towering ever higher around me and loose threads always getting caught in my hair and stuck to my socks, but I've cleaned up my act for a few photos to show you how I make a baby quilt.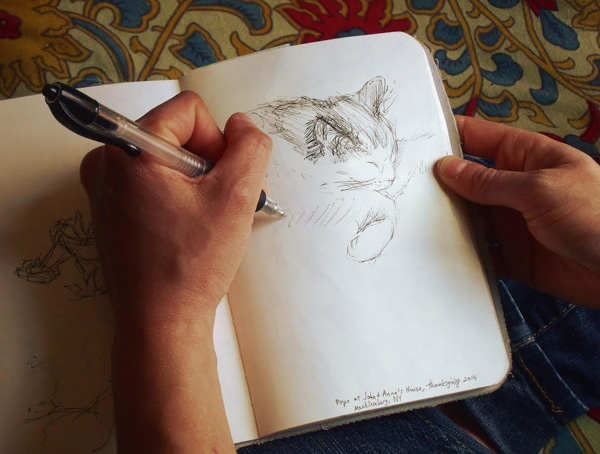 For my baby quilts, I most often take my inspiration from animals. I sketch critters in my sketchbook, until I alight on one in just the right attitude for the quilt of the moment. (The rest of this post shows me making an elephant quilt, but this cat sketch was nicer than the elephant sketch.)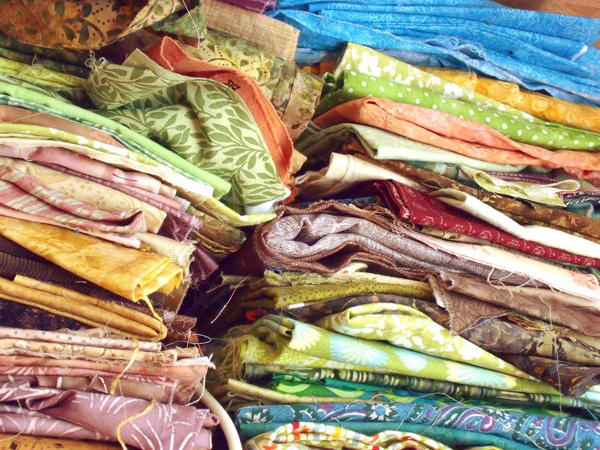 My studio is filled with overflowing shelves of fabric, which I source from all four corners of the earth, but especially from New York's fabric district, which is a short trip by subway from where I live and work in Greenpoint, Brooklyn. Fabrics are an additional source of inspiration, whether they are solid or patterned, new or vintage. I work almost exclusively with natural fibers like linen, silk, denim, and cotton, with the exception of the occasional too-intriguing-to-pass-up piece of vintage polyester.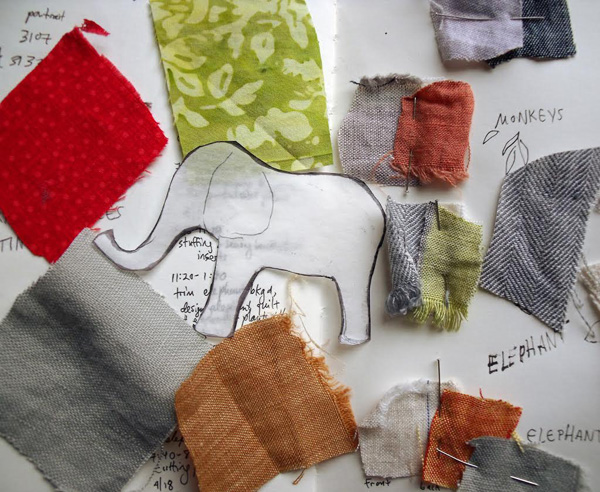 After I have chosen a charming member of the animal kingdom, I comb through my fabrics until I settle on a basic color scheme and textures. For this elephant quilt, I chose a muted orange linen for the quilt top and an oatmeal linen for the back and border, feeling that they suggested a dusty savannah environment that would be a suitable home for a leathery pachyderm.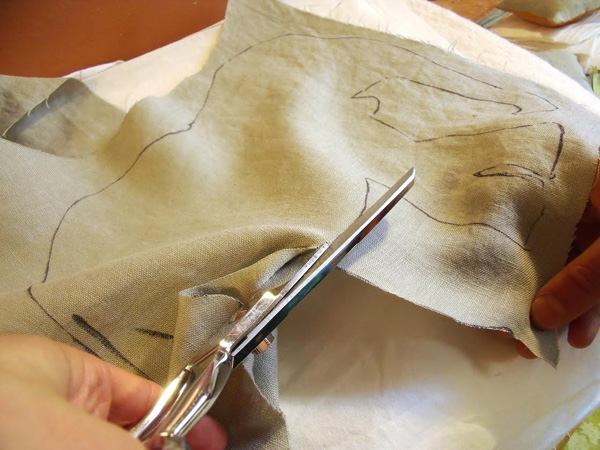 The subtlety of an animal's shape makes a huge difference to the finished piece, and it often takes a while to get the drawing of the quilt's subject just right, even if it is a fairly simple silhouette. From the finished drawing, I make pattern pieces out of tracing paper and trace and cut each piece individually, which leads to a lot of subtle variation from quilt to quilt.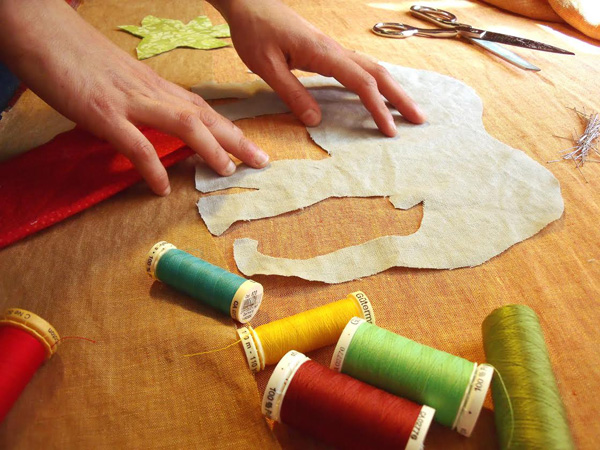 While I usually start with a picture in my head and a small thumbnail sketch on paper, each piece really takes shape directly in fabric. This allows me to experiment with the composition of the quilt top and see things closer to how they will look in finished form. During this part of the process, there is a lot of cutting, arranging, pinning, adding bits that don't work to the scrap bin, resizing, shifting, and more cutting, rearranging, and pinning. It always creates a glorious mess on my studio floor.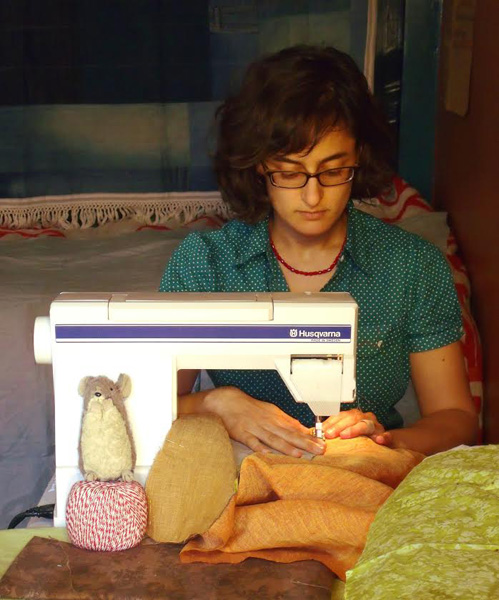 Once the composition of the quilt top is finalized, it's time to sew all the pieces together. I still do all of my sewing on the Viking sewing machine my parents so generously gave to their wannabe fashion designer daughter on her twelfth birthday. This machine is a workhorse, and hasn't let me down yet, despite all the weird, bulky piles of fabric I send under its needle.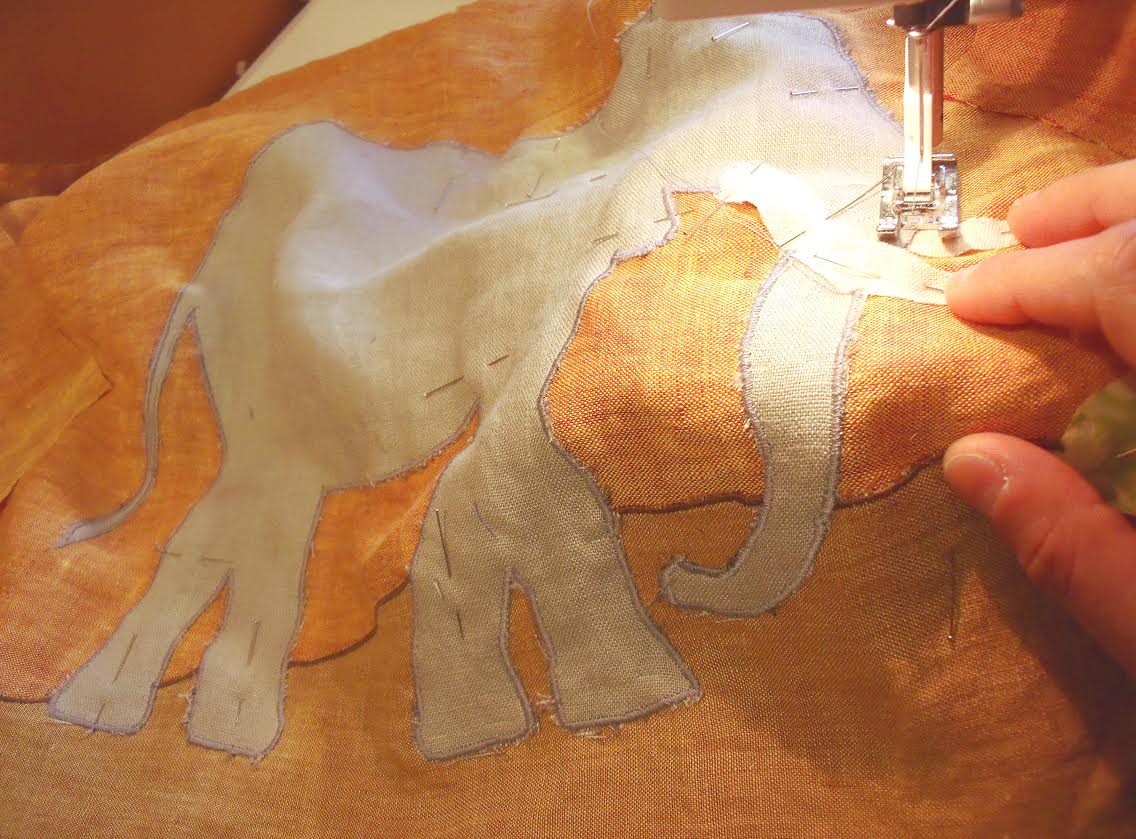 For all of my pictorial pieces, I use a satin stitch, a heavy back and forth stitch that traps and sews down the raw edges of each piece of fabric and adds an important design element in the form of colored outlines. When I first started sewing this way, my work was painfully slow and pretty clunky, with lots of missed stitches and bunched fabrics, but after many years of practice, my stitch work has gotten finer and finer. The technique allows me to forego traditional piecing and applique styles for a more spontaneous collage-like approach to image-making.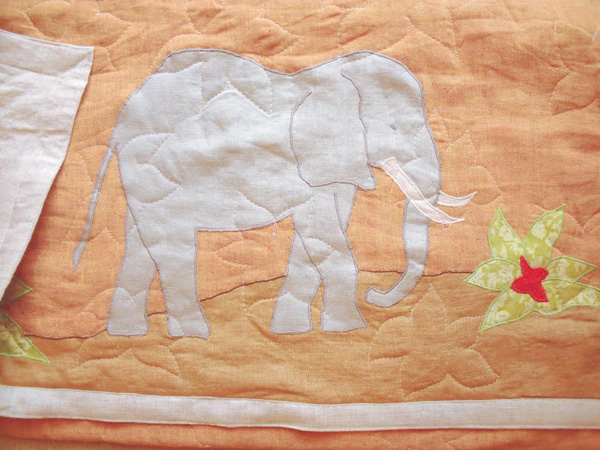 When a quilt top is finished, I sandwich it with cotton batting and a solid piece of fabric for backing. To join all three layers together, I quilt freehand on my industrial quilting machine, which lets me move fabric freely underneath the needle, kind of like drawing but in reverse. Being a free-spirited lady, I don't draw my quilting patterns beforehand; I choose a simple motif, like a flower or a star, and just start sewing, creating a satisfying but not too uniform quilted texture. After quilting, I finish the edges, trim off extra threads, and hand-stitch my initials in the corner.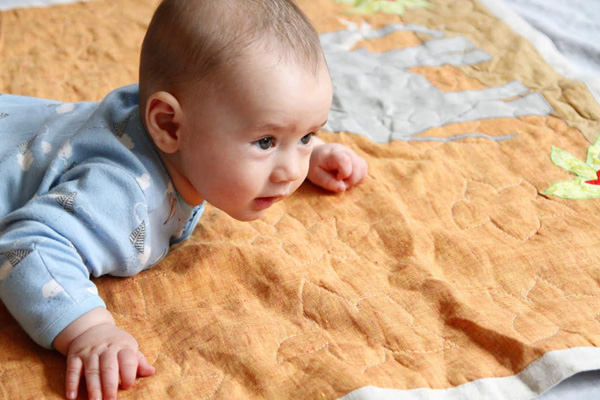 I know you can't see the finished quilt very well in this picture, but you can see my beautiful baby nephew enjoying it, and I figured including it in this post wouldn't hurt my chances of luring you to come see me at Booth #17 at the Bazaar.