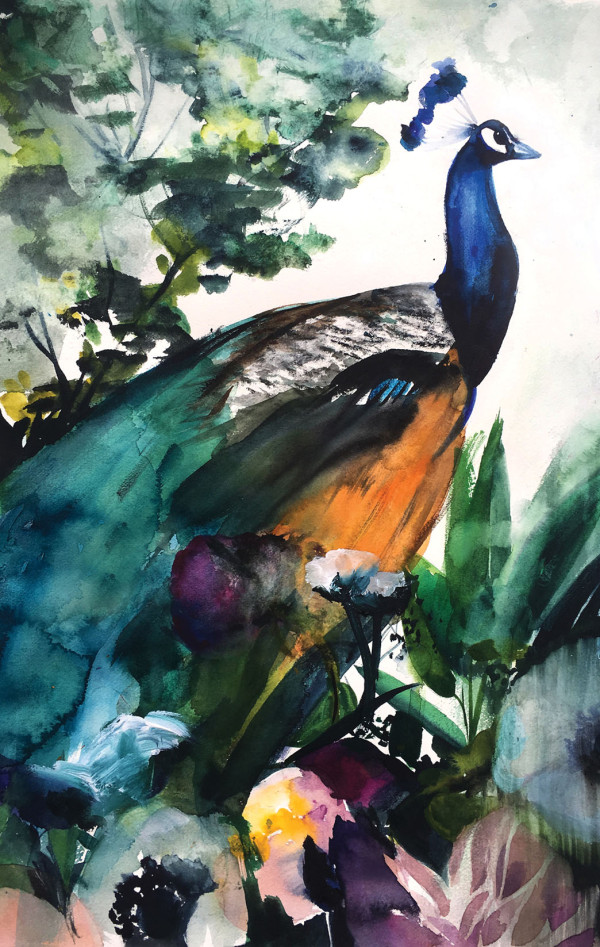 Night Garden by Christine Lindstrom 
May 21st – July 17th , 2016
Opening Reception: Saturday, May 21st from 6-8pm

Art Star is pleased to present a solo exhibition with Asbury Park, NJ based artist, Christine Lindstrom of Mai Autumn.  The show, titled "Night Garden" will include the artist's latest series of watercolor and acrylic paintings. The exhibition will be on view from May 21st – July 17th 2016.  There will be an opening reception with the artist on Saturday, May 21st from 6-8pm.   The reception is free and open to the public and will include light refreshments.
Christine Lindstrom creates illustrations under the name Mai Autumn for her collection of art, stationery and surface patterns. Mainly working in watercolor and acrylic, her work takes on an ethereal quality that has been described as dreamlike. Her main inspiration stems from memories from childhood, where her afternoons were spent exploring the forest and letting her imagination form a mysterious bond with the magic of nature and the unknown. Each piece has a sense of a hidden memory that has been tucked away and not fully visible.
The artist states, "With this collection of paintings, I am attempting to capture a sense of emotions and dreams through color and form. If I could project my imagination onto a wall, I am engulfed in a summer garden at night, surrounded by the shadows of flowers, their luxurious smells, and sounds that I cannot find their origin. Each piece may either represent a dream, or the glimmers of the garden itself in the dark. Oftentimes, our minds create an interchangeable reality that is difficult to separate from the imagination. These pieces are meant to blur the lines between what is real and what is imagined."
Christine has been painting all her life and went on to study at Savannah College of Art and Design, as well as Monmouth University, where she received her BA degree in art in 2008. Her work is sold through many national and international retailers. She previously curated the critically acclaimed handmade collective, Fey Handmade. Her illustrations have been published in the books, I Heart Stationery and The Custom Art Collection – Art for the Contemporary Home. Her curatorial and illustration work have received praise from Lucky Magazine, Real Simple, Southern Living, Dwell Magazine, and Apartment Therapy, among many other prominent publications and websites. She currently lives in Asbury Park, NJ with her beautiful one-eyed cat, Boo. This is her first solo exhibition.