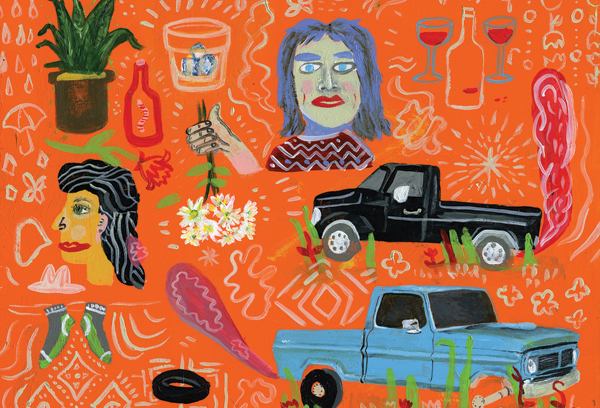 We are pleased to present an exhibition with Philadelphia based husband + wife artists, Keith and Rita Greiman.  The duo will be exhibiting their own individual works as well as collaborative pieces.  The exhibition will be on view from April 18th – June 21st, 2015.  There will be an opening reception with the artists on Saturday, April 18th from 6-8pm.   The reception is free and open to the public and will include light refreshments.
Keith and Rita Greiman will present an all new body of playful and vibrant works, drawing inspiration from the humor and absurdity of life's everyday objects and events.  The show will include Keith's acrylic on wood paintings and 3D wood figures, which feature a cast of quirky and animated characters that are brightly colored and evoke a childlike quality.  Set against flatly painted patterned backgrounds, the floating figures and objects populating the pieces appear anything but innocent though.  Rita's mixed media dioramas mirror the childlike, yet twisted quality of Keith's work, containing glitter coated army men, food, and animals.  In addition to their individual pieces, they will be exhibiting new works together which combine their shared vision and include patterns, floating objects and characters, real and supernatural.  The couple will also be painting a large mural together on one of the exhibition walls. This will be their first time showing at Art Star.
Keith Warren Greiman lives and works in Philadelphia, PA. His bright and animated images of real and supernatural beings depict life, captured in experience, being ascendant, melancholic and at all times wild. Keith's work has been shown in various galleries and publications from all over and everywhere. Some clients include LA Times, Village Voice, Newsweek, the Fader, Ace Hotels, Fantagraphics, the Utne Reader, and Willamete Week. His work has been recognized by American Illustration, The Society of Illustrators and Graphis.
Originally from Irvine, California, Rita Greiman currently resides in Philadelphia where she has been for thirteen years.  Through the years, Rita has done various works as a seamstress, illustrator, upholsterer, and designer.  She studied in the School of Visual Arts at Pennsylvania State University as well as the College of Communications. She has worked in several media and currently combines painting, sculpture, and found objects to create playful dioramas that are often centered around animals, glitter army men, and food.